In today's article, I am going to show you how to write a letter to the editor about ragging in educational institutions. Hopefully, the following examples are going to help you to compose editorial letters on a similar topic. So try not to skip any and read them thoroughly. Now let's begin.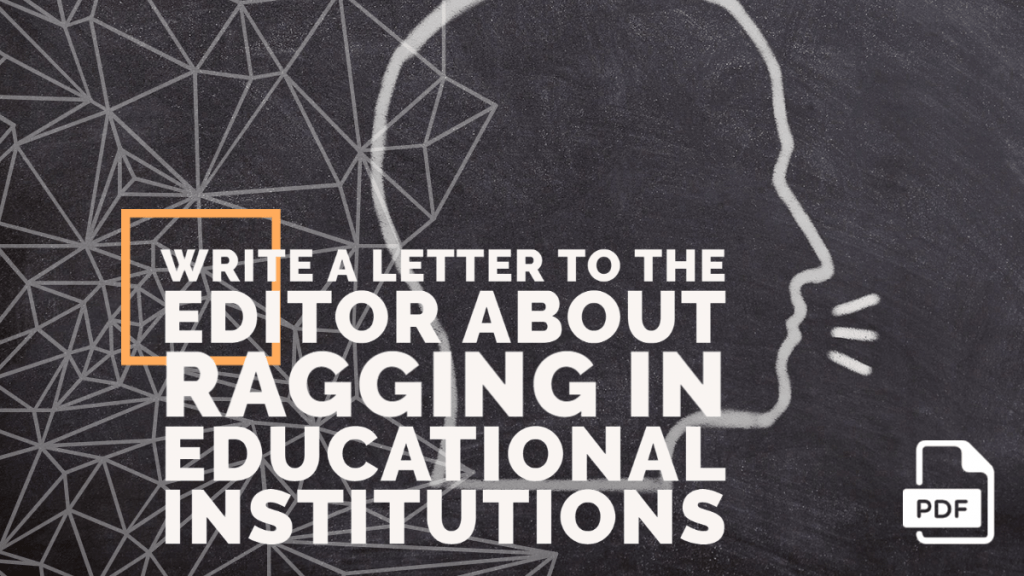 Example 1
Question: Ragging causes severe mental health issues in students. Write a letter to the editor about ragging in educational institutions in about 120-150 words.
Hints: Description of ragging- Effects on students- Colleges having counsellor- Importance to mental health- Punishment for the wrongdoers
19, College Street 
Kolkata 600089
June 20, 2021
The Editor
The Telegraph
Kolkata
Subject: Students going through mental trauma for ragging
Sir,
With this letter of mine, I would like to express my views about ragging in educational institutions and its impacts on students' minds. I shall be highly obliged if I am given a little space in your esteemed daily.
Ragging is an unethical practice. Although it is banned in all educational institutions there are still some students who continue with this unacceptable practice. Ragging is mostly done in colleges by senior students. A student is forced to perform certain tasks against their will. Sometimes these tasks can be of extreme nature and can have various mental effects on a student. Many students suffer from severe trauma after an unpleasant incident like this.
Some students have taken a long time to come back to their natural self after being a victim of ragging. Ragging must be completely banned and should not be encouraged under any circumstances. All educational institutions must have a counselor and mental health cell where students can freely talk about their feelings. They should be provided the necessary support in tough times like these. 
I hope my concern will make authorities think about giving mental health a priority and our students will get rid of any such trauma with proper guidance.
Yours sincerely,
Suman Pal
---
Example 2
Question: Write a letter to the editor of a daily newspaper expressing your concern about the harmful effects of ragging on the students.
Hints: An old unethical practice- Students expects co-operation in college- Physical and Mental tortures are never acceptable- College authority must take strict stapes.
19, Lakeview Road
Delhi 500078
June 19, 2021
The Editor
The Hindu
Delhi
Subject: Ragging is unethical and unacceptable
Sir,
I'm writing this letter to express my views against ragging in educational institutions through the space of your esteemed daily.
Ragging has been a practice for overs years now in many academic institutions. This practice is completely unethical and unacceptable. No student has the right to torture any other students physically or mentally and make them do things against their will. A student steps into a college for the first time to explore a new world of their life. Students are supposed to enjoy and get co-operative seniors in their college life.
However, due to this unethical practice, many students go through severe trauma and some might never get rid of those bitter memories in their heads. So, the college authorities must frame strict rules against ragging in order to completely eradicate such brutal practices from their colleges. Surveys have revealed how ragging has caused depression and sometimes severe physical injury to many freshers. Some students even have been compelled to leave a particular college because of such unhealthy experiences. Through your esteemed daily, I want to earnestly request the college authorities to conduct special seminars for students and teach them about appropriate and ethical behavior. 
I sincerely hope my voice will be heard and may any student in the future will no more have to suffer from ragging.
Yours sincerely,
Gautam Kapoor
---
Example 3
Question: To control ragging in educational institutions strict rules must be adopted. Write a letter to the editor about ragging in educational institutions and suggest measures to prevent it. 
Hints: Supervisors reporting incidents immediately- Safe space for students to share- Punishing the students for their mistakes- Workshops to teach lessons
6, Safdarjung Road
New Delhi
July 18, 2021
The Editor
The Deccan Herald
Chennai    
Subject: Strict rules for ragging
Sir,
Today, I'm writing this letter to express my concerns regarding ragging in educational institutions and want to suggest some measures to prevent this. I shall feel honored if I get allowed a little space in your distinguished daily.
Many colleges have already put strict enforcement of anti-ragging regulations to present this extremely inappropriate practice. Still, in various institutions of the country, this notorious practice by a few students causes trauma in a large number of innocent students every year. That's why just a ban is not enough to eradicate ragging. Students who commit such mistakes must be suspended and if required must be rusticated from colleges.
There should be a supervising authoritative body to look after such matters and report immediately if any such unpleasant activities happen within the institution premises and hostel arena. Also, students who have suffered this must be given a safe space to share their experiences and lodge official complaints to the college authorities. Besides, behavioral workshops must be conducted during the first year of college to help students learning the deep impact of ragging and its various consequences. 
I sincerely hope authorities would adopt strict preventive measures as soon as possible to stop ragging in academic institutions. Our dream should always be to provide the students with a healthy atmosphere for learning.
Yours sincerely,
Komal Kaur
---
Example 4
Question: Ragging is not fun at all, rather it has severe consequences. Write a letter to the editor of an English daily about the ill practices of ragging in educational institutions.
Hints: Mental and physical trauma- Anxiety, stress, depression- Impact on studies- Forced to quit college- Need for immediate actions 
30, M.G Road
Delhi 60089
June 20, 2021
The Editor
The Hindustan Times
New Delhi
Subject: Various consequences of ragging
Sir,
With this letter in your esteemed daily, I would like to voice my opinion about the various consequences of ragging in educational institutions.
Many students do not understand the serious consequences of ragging. Rather most of them still dismiss it being as fun and a part of the entertainment. They fail to understand how severely ragging impacts the affected students. Ragging can be severe and sometimes it goes beyond control. Sometimes students are even forced to cut their hair or perform various other unpleasant activities. This causes acute stress in the student both physically and mentally.
These stresses are causing self-doubt, anger issues, depression, and other detrimental effects on the students' health. Some reports have also found that students go through a long period of severe anxiety after being a victim of ragging. This anxiety can eventually result in insomnia and other physical problems which have a direct impact on the studies. Even many bright students become unable to deal with the trauma of ragging and sometimes have to quit college or eventually have poor academic results. If stricter rules are not enforced right now, the future of such students will be at stake. 
I really hope that my genuine concerns will be considered with due importance and will unnerve the conscience of the students as well as the authorities.
Yours sincerely,
Gaurav Taneja
---
In this session, I've tried to teach you how to write a letter to the editor about ragging in educational institutions. Hopefully, I have covered all the relevant points and you found it helpful. Feel free to add your own thoughts. Be sure to maintain the formal tone and language of editorial letters. We have an array of topics on our website, do check them out, and don't forget to come back for more.