In this writing, I will show you how to write a letter to the editor about a serious social problem that is causing difficulties in others' normal lives. There are 4 sets of example letters to show you how to write on this topic in different ways.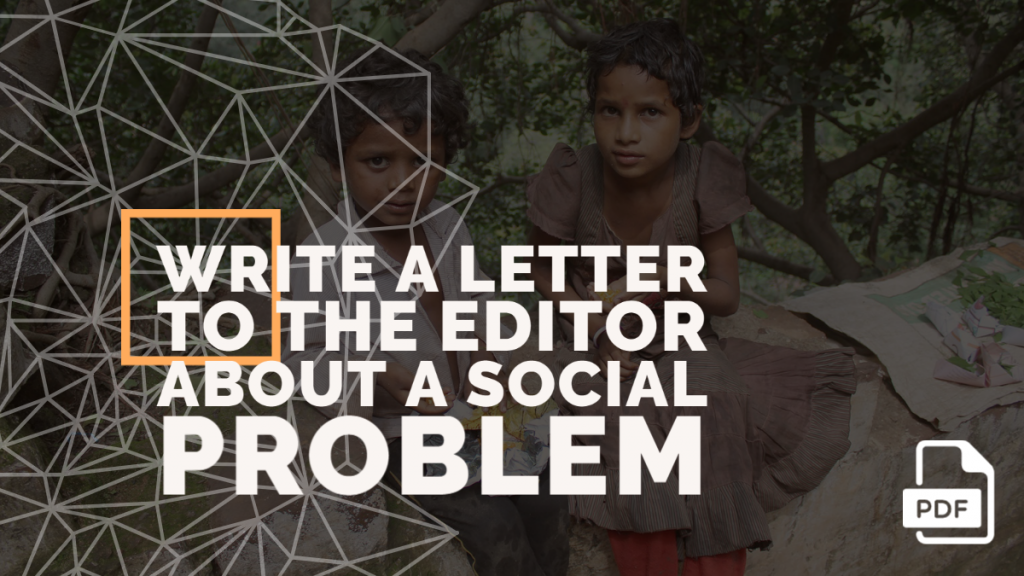 Set 1
Question: Clubs in your area play mike on a very high range of volume in an unusual time which is causing disturbances during study-time for children and giving trouble to older ones, pets and stray dogs.
Hints: Mention the problem—Explain why and how it's causing serious issues—Request the editor for a solution.
74, G.D Road,
Kolkata- 700078,
24th April 2021,
The Editor,
India Today,
Kolkata,
Subject: Noise Pollution in the Locality
Dear sir,
First of all, I would like to thank you for always being there for us and for raising all the social concerns that are creating major problems among us. Today, I have decided to write to you about another problem in our area. The young boys of the clubs in the area have recently started to play mike on a very high volume at a very unusual time without any reason.
This has caused major problems for students, children and older people. They cannot study or work due to the harsh sound. And older people with heart problems are getting serious health issues for this. Apart from that, pets and stray dogs in our area are in major trouble.  
So, I shall be obliged if you can pay attention to this matter and take an initiative to stop this.
Thank You.
Yours Sincerely,
Deblina Chatterjee
---
Set 2
Question: There has been some work on the road from the corporation in your area. But the road has not been fixed yet. Half of the work has been done but no one is getting bothered about it.
Hints: Write about the problem—Mention for how long it has been there unfinished—Then request for a quick solution.
34, P. Goyal Road,
Mumbai 400001,
24th April 2021,
The Editor,
Times of India,
Mumbai.
Subject: Road problems due to corporation work
Sir,
Today I'm writing this letter to you to take your focus on a serious social problem which the people of our area have been dealing with for a long time. There has been work on the road from the corporation in our area, but they have left it unfinished keeping the roads blocked. The work started in October 2020 and still, the road is not fixed. So, we can't use that road and have to take another route to go somewhere, which is quite a long route and takes longer. Not only that, this kind of road can cause serious accidents also that may lead to someone's death as well.  
Please look into this matter so that officers from the corporation take quick steps to fix this up.
Thank You
Yours Sincerely,
Juhi Sharma.
---
Set 3
Question: The cable connection in your locality has been cut. Even after lodging several complaints, the cable operator is not bothered at all with it.
Hints: Write the issue—Mention that you all have put complaints for it and paid the monthly bills as well—Ask for help.
63, Puran Marg Road,
Pune 411009,
22nd April 2021.
The Editor,
The Telegraph,
Pune.
Subject: Cable connection problems
Dear editor,
Since you always look into our social problems and try to solve them as much as possible, I thought to write this issue also to you so that we can have some relief from this pain. Even after paying the monthly bills on time, the cable connection in our locality is cut and we cannot watch television for 4 months.
We have lodged complaints but the cable operator is not ready to fix it up. During this COVID time, most of us are staying at home, so watching the television is one of the most convenient options for us to spend our leisure time, especially for older people and children. So, it would be a great relief if you can take this matter forward and help us to fix this issue.
Thank You
Yours Sincerely,
Nivedita Roy.
---
Set 4
Question: One of the banquet halls in your area has been turned into a quarantine centre for COVID patients without any protocols, safety measures and proper permission.
Hints: Write about the issue- Mention that it has been done without permission- Ask the editor to report it to the higher authority.
79, Anand Marg Road,
Delhi 110005,
25th March 2021.
The Editor,
The Statesman,
Delhi.
Subject: Quarantine centre established without permission
Dear sir,
We all are grateful to you for constantly keeping us up to date with all updates regarding COVID 19. During this ferocious second wave of the deadly virus, you and your team are burning the midnight oil to keep us warned and safe. Hence, I thought to bring another shameful incident to your attention which is happening in our locality in complete silence.
One of the banquet halls in our area has been turned into a quarantine zone without any permission, proper safety measures and protocols. This can be highly dangerous for the people of our area, especially for the older ones and children.
So, I would like to request you to inform the higher authority about this matter so that they can immediately stop this and seal the entire building.
Thank You
Yours Sincerely,
Sramana Basu.
---
In this article, I have shown you how to write a letter to your editor asking for help with a social problem. If you like it then please let us know in the comment section below. And also, do check our website for other amazing and helpful content. We are always there to help you out. See you soon!