In this session, you will learn how actually you can write short essays on The beauty of Nature. There will be three individual sets of essays covering different word limits.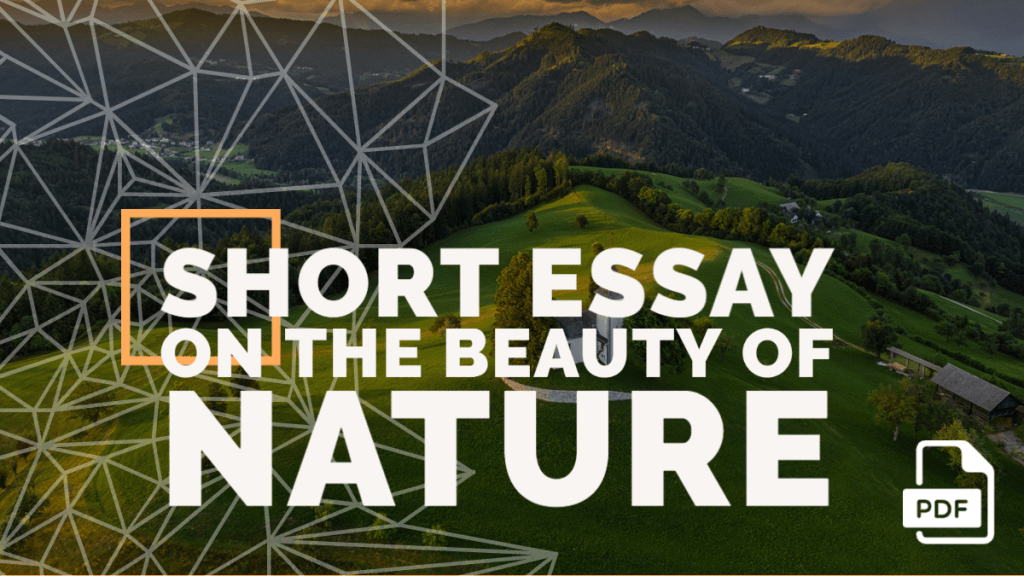 Short Essay on the Beauty of Nature in 100 Words
Nature is a gift of God towards all living creatures on the earth. There is no one who is not daily helped by the goods of nature. Nature is significant to the development of life. As human beings, we realize how important a single plant is for our survival.
The beauty of nature includes plants, animals, insects, and other aspects like the mountains, hills, plains, rivers, the sky, which are all components of this beautiful nature. Nature is like a well-made garden with lots of flowers and fruit trees. It is our protective shield from all-natural calamities. It gives us the support to survive healthily on the earth. Nature is the source of our personal beauty and strength as well.
---
Short Essay on the Beauty of Nature in 200 Words
God while creating the earth has given his best. And among several things, nature is his most beautiful creation. Nature is a part of heaven. The beauty of a single tree is worth much more than any commodity. We are always told to preserve nature because nature is the elixir of our life.
Every life on the earth is supported by the nature around us. This nature includes trees, animals, insects, humans, and even the geography we inhabit. The mountains, hills, plains, plateaus, rivers, springs, waterfall, deserts- all are the components of this wide nature. We cannot overpower nature. It has its own strength to control the atmosphere.
Nature is almost like a caring mother who feeds her children. It gives birth to lives and also maintains them peacefully. Nature protects us like an umbrella. It does not allow any storm or flood or drought to affect us. Nature's beauty lies in the fact that she changes according to whether to support the earth.
According to every change she has her collection of food to feed all living creatures. It is our duty hence to maintain her beauty. The beauty of nature is a component of nature. We must not chop trees or hurt any animal, as it results in harming ourselves. Nature is a treasure and our biggest responsibility is to care for it.
---
Short Essay on the Beauty of Nature in 400 Words
Nature has been the source of our delight. It is the reason for our life and sustenance. The earth is beautiful because of nature. It is a creation of the god himself. Hence, it is all beauty. In the Holy Bible, we see the beautiful Garden of Eden as an example of natural bliss.
It is a garden, filled with fruits, flowers, trees, animals, and human beings. In fact, Eden shows us what the ideal nature looks like. It is about humans staying together in harmony with animals and plants. No one is harming the other. Nature provides us with this peace and happiness. This is the actual beauty of nature.
Wordsworth in his poem 'The Daffodils' gives importance to nature. He tells how nature soothes our pains and anxiety. When we are tired of our mundane life, we try to find help in nature. We take long walks down an empty road or even enjoy the cool breeze standing at the terrace. The first dewdrop of the morning is a wonderful beauty. Nature shows how even simple things can be wonderful. We do not need to travel to many countries to enjoy happiness. Nature gives us that richness and pleasure quite easily.
Nature is the biggest blessing in our lives. It is precious to us. We cannot survive if nature is taken away from us. Nature is the source of our food. Our daily diet includes several components from nature, be it vegetables, fruits, or milk. Destroying nature is letting ourselves die, all hungry. Nature is also our protection. It saves us like a shield.
Whenever we face any natural calamity, it immediately rescues us. Every storm, flood, and drought is reduced by nature. Nature feels more like a mother to us. A mother cares for her child and knows him the best. So does nature. Natural beauty lives in the geography we live in. The first sun rays, the chirping of the birds, the blooming seasons, the wind and rainfall, everything delights us equally. We cannot think of living without this peace. Nature thus is the house of serenity and calmness.
As rational human beings, it is our foremost duty to take care of natural beings. Every citizen must pledge to plant a tree and provide shelter to animals. Ther should complete restriction to any hunting of animals. Even in zoos, animals must be well kept. Nature is the balance of the ecosystem. If nature is harmed, then the stability of the ecosystem will be completely destroyed. So natural beauty depends on the care we give to it. If we love it like our own mother, then it will remain forever beautiful.
---
I have written these sample essays in a very simple language for a better understanding of all kinds of students. If you still have any doubts regarding this session, kindly let me know in the comment section below. To read more such essays on various important topics, keep browsing our website.
Thank you.