In today's session, you will learn to write short essays on the popular term 'Safety First.' There are going to be three individual sets of short essays written on the topic covering different word limits.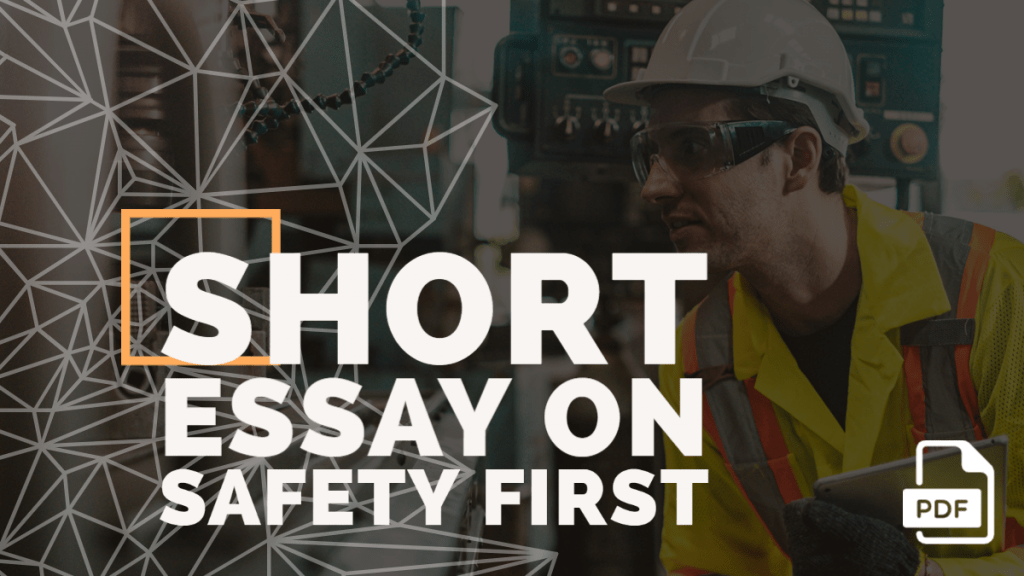 Short Essay on Safety First in 100 Words
Safety is the most important measure to take in our lives for any kind of emergency. We are often told about safety first. Safety means protection. We always try to avoid dangers or stay away from any harm. We work very carefully so that we do not get harmed by any problem.
Danger can come at any moment and any place. We are unaware as to when it will attack us. So having safety is our first and foremost priority. Whenever we are at home or outside, we must remember about it. We must never hurry into anything because that can cause us lots of risks. Also, we must keep a safety kit or a first aid box handy. This will help us to tackle any emergency when needed.
---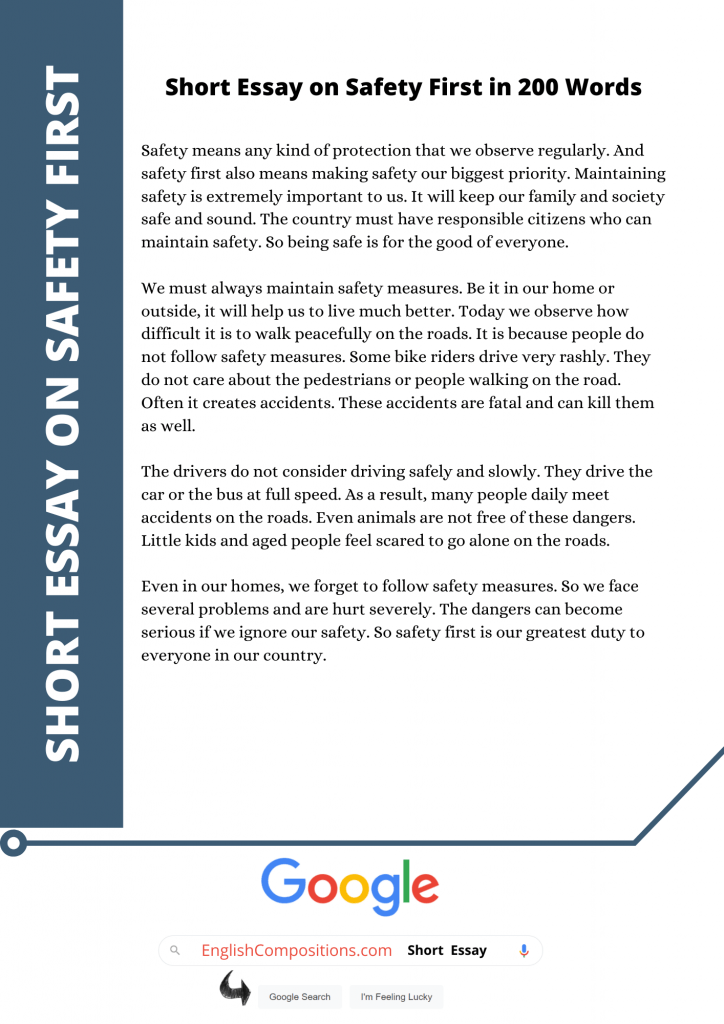 ---
Short Essay on Safety First in 200 Words
Safety means any kind of protection that we observe regularly. And safety first also means making safety our biggest priority. Maintaining safety is extremely important to us. It will keep our family and society safe and sound.
The country must have responsible citizens who can maintain safety. So being safe is for the good of everyone. We must always maintain safety measures. Be it in our home or outside, it will help us to live much better. Today we observe how difficult it is to walk peacefully on the roads. It is because people do not follow safety measures.
Some bike riders drive very rashly. They do not care about the pedestrians or people walking on the road. Often it creates accidents. These accidents are fatal and can kill them as well. The drivers do not consider driving safely and slowly. They drive the car or the bus at full speed. As a result, many people daily meet accidents on the roads.
Even animals are not free of these dangers. Little kids and aged people feel scared to go alone on the roads. Even in our homes, we forget to follow safety measures. So we face several problems and are hurt severely. The dangers can become serious if we ignore our safety. So safety first is our greatest duty to everyone in our country.
---
Short Essay on Safety First in 400 Words
Safety means protection from any sort of danger. The term safety first is, at present, a frequently used term. Safety is something that we prioritize first. Whenever there is danger, we must take an immediate measure of safety to survive the situation. Thus keeping safety as our biggest priority is the best task to do in our lives. We will stay prepared for any hazards that may arrive on our way.
Unfortunately, people nowadays do not consider safety as the primary need. As a result, we often face severe disasters. The biggest danger takes place outside our homes when we are on the road. The bike riders dive their bikes at high speed. They drive rashly over the roads and highways. Hence it becomes very difficult for the aged and the pedestrians to walk on the roads.
Anytime they can meet an accident, and can also die on spot. Similarly, for other vehicles like a bus or a car, we observe the same picture. The buses collide with other trucks and cars while breaking the traffic rules. It is a bad habit to violate the traffic rules and traffic signals for personal benefits. Maintaining safety on roads is for the benefit of everyone. We must follow the signals and use a zebra crossing while moving to a different route. Walking in between vehicles in a hurry or jumping down a bus while it's moving can cause serious harm. 
Even on rail lines, we must be cautious. It is always advisable never to cross a rail line while a train is approaching. Similarly, standing near the door while the train is running at full speed can cause tremendous destruction. Some people often take selfies while standing on railways and even use them as fun places. However, it is stupid to take such things lightly. Everyone should remember the safety that can help them to live better.
Safety first applies to our household as well. If there is a little child or an aged person in the house, then these safety measures become very important. One must keep away all sharp objects, fire, oil, and other poisonous goods from their reach. Burners and cylinders should be switched off to avoid any danger. The doors should be closed so that babies cannot crawl outside the house.
Also, basic hygiene is a part of safety. Keeping the house clean will make it safe. Keeping a first aid box and some emergency medicines will protect us from any immediate need. Hence these basic yet important tips can enable us to live better. 
---
If you have any doubts regarding today's lesson, kindly let me know through the comment section below. To read more such sessions, keep browsing our website.
Join us on Telegram to get all the latest updates on our upcoming sessions. Thanks for being with us. All the best.