In today's session, you are going to learn to write short essays on the topic of 'My Favourite Game'. In this lesson, I will write three generalised essays on three different games within different word limits.
Table of Contents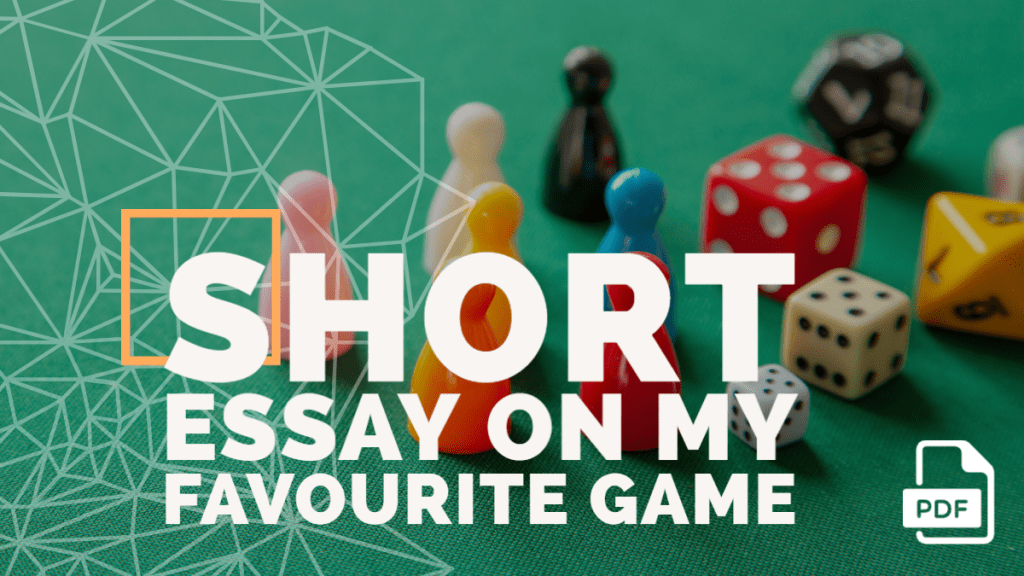 Short Essay on My Favourite Game (Chess) in 100 Words
Games immune us physically as well as mentally. Games are important for us because they give us the fitness to stay healthy. If we are physically fit then automatically our brain will function better. I have never received any open playground in my childhood.
So I have grown up playing different indoor games with my parents and siblings. My favourite indoor game is chess. I love to play chess, especially with my father who has taught me all the rules and regulations of that game. The best thing about this game is the use of the brain. Even the easiest step can do checkmate. I have often lost to my father but still, I love to play it again and learn it always. 
---
Short Essay on My Favourite Game (Hide and seek) in 200 Words
Playing outdoors under the open sky is great fun and happiness. It means freedom from studies and the tensions in our lives. Every evening playing outside with my friends gives me lots of pleasure and joy. The best game that I like to play is 'Hide and seek'.
Many people can play together and so it's my favourite outdoor game. With many friends, it is great fun to hide in different places and make one search for all of us. Hide and seek involves lots of physical exercises and that enables us to stay fit, even without our knowledge. Also, that search is exciting. The sudden finding of one friend and often using that friend to get others to involve lots of mischiefs. The laughter at the end is worth the most to me.
Today due to the lack of any playground we hardly get a chance to play this game. However, it is still an important part of our memory. As we have grown up over the past years, we have realized how important the simple game was. Today we have smartphones and video games but then only this innocent play every evening meant a lot to us. Also running back home all happy and fresh in mind helped us to concentrate better on our studies. Hide and seek still remains to be more fun for me than just any other outdoor game.
---
Short Essay on My Favourite Game (Cricket) in 400 Words
Games are an essential part of human life. It is very important to play games as it helps us to remain healthy and fit, both physically and mentally. All sorts of diseases and pains can be reduced if we regularly play games.
Indoor games help us to immune our brains while outdoor games are important to build our own strong immunity and body. From my early childhood, I have loved to play games, especially outdoor games. My parents have always encouraged me to play games to keep a healthy and fit body. The game that I have played the most and also have seen the most is cricket. It is not only my favourite game but also the ideal one for me.
Cricket is generally a game played by men, but nowadays women equally engage in playing cricket. My inspirations in this game are Sourav Ganguly, Sachin Tendulkar, Jhulan Goswami, and also M.S. Dhoni. I have watched them play several matches and every time I have been inspired to play like them. My father taught me the basics of cricket and later on, I was admitted to a club. From there every morning I go and practice cricket.
Cricket involves lots of exercise and practice. This game originated mainly in England as a colonial sport and later on spread over several countries. It happened when Britain started colonizing all over the world and the game spread all over as part of their culture. But today it is almost a native sport for the country as well. When I play cricket it does not seem that it was once used by a different country, but now it feels like it is my own.
Cricket is played with a bat, ball, wicket, stumps, and a proper pitch for a smooth throw of the ball. The team contains 11 players and all need to be equally efficient to be a part of the cricket team. The best part of playing cricket is teamwork. I love to see the captain planning everything and then adjusting it with his or her team.
This constant equation between the team member is my favourite part of the game. Cricket has taught me lots of things. It has only made me physically fit. Cricket has taught me how to collaborate and work as a team. It has successfully built the team. It is always a great company to me than any simple outdoor game.
---
I have adopted a simplistic approach to writing essays on the topic for a better understanding of all kinds of students. If you still have any doubts regarding this context, kindly let me know through the comment section below. Keep browsing our website for more such sessions.
Join us on Telegram to get all the latest updates on our upcoming sessions. Thank you.