Birds are one of the most beautiful creatures in the world. Most of them look very beautiful and they can fly above the sky. In this lesson today, you will learn how to write a short essay on your favourite bird.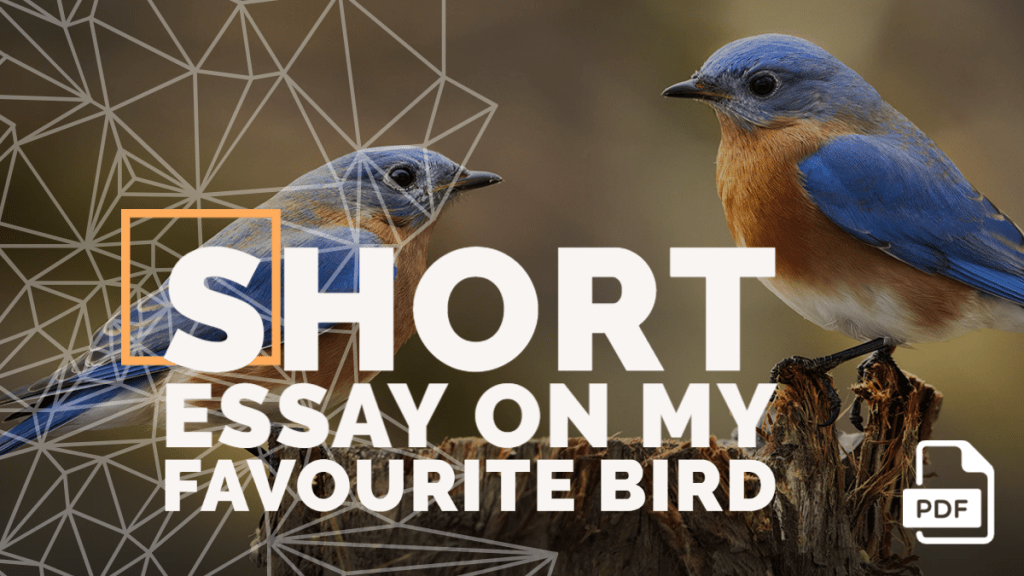 Short Essay on My Favourite Bird Peacock in 100 Words 
There are tens of thousands of birds in the world but my favourite bird is the peacock. A peacock is a beautiful bird. It has a shiny, dark blue neck and a crown on its head. Its tail feathers are colourful and long. During the monsoon season, peacocks spread their feathers and dance gracefully.
Their dance is spectacular and brings joy to those watching. Peacocks are the male birds of their species. The females are called peahen and are less colourful than the males. Peacocks live on the upper branches of tall trees and prefer running to flying. They are quite agile on foot. In India, peacocks have religious and cultural significance. They are the national bird of our country. 
---
Short Essay on My Favourite Bird Parrot in 200 Words 
There are many different types of birds in the world. My favourite bird is the parrot. Parrots come in different sizes, shapes, and colours. Some are single-coloured while others have bright, multi-coloured feathers. The colour of their plumage can range from predominantly green with some red to a vibrant mix of red, orange, green, blue, yellow, pink, and black. Some smaller species of parrots can only grow up to ten centimetres while some larger varieties grow up to a hundred centimetres and weigh over a kilogram. 
Parrots are omnivores and eat nuts, seeds, berries, fruits, plants, grains as well as small insects. They have a curved beak that helps them split fruits and nuts. These birds are quite intelligent and can mimic human speech. They are very playful and friendly in nature. Parrots usually build their nests in the hollow of trees and lay eggs twice a year. Baby parrots are called chicks and are very cute.
In recent times, due to habitat loss, climate change, and wildlife trade, many types of parrots are becoming endangered. Many people keep parrots as pets in cages for entertainment and do not take good care of them. This needs to be stopped. Parrots are great birds and we should do our best to protect them and take care of them. 
---
Short Essay on My Favourite Bird Cuckoo in 400 Words 
I have seen hundreds of different types of birds and observed their unique quirks and I adore them all, but my favourite is the cuckoo. Cuckoos are black in colour and have long tails. They look like crows but are smaller than them. The sound that cuckoos make is very pleasant to listen to and they are quite famous for it as well. Their melodious call fills everyone with joy. Cuckoos live on trees and in bushes. They eat fruits, insects, and worms. They especially like eating caterpillars. 
Cuckoos are migratory birds and we often see them during the spring season. Hence, they are called the harbinger of spring. Cuckoos have a peculiar habit. They do not make nests and are infamous for laying eggs in the nests of other birds, usually crows. A female cuckoo can lay eggs in as many as 50 nests during the breeding season.
Cuckoos have evolved to lay eggs that mimic the eggs of crows. This prevents their eggs from being ejected from the nest. The crows mistake the eggs as their own and look after them. Cuckoo chicks hatch and grow up under the care of crows. 
In the village, we wake up every day listening to the chirping of different birds and during the spring season, it is beautiful 'kuhu kuhu' of the cuckoos that dominate. There are at least ten pairs of cuckoos that live in our orchard and we give them grains and fruits to feed on.
Although they are usually afraid of humans and don't come too close, I once befriended a cuckoo. It had red eyes and used to come near the windowsill of my room every morning. I fed it grains that I got from my grandmother and also caught a few hairy caterpillars for it. One day, it brought along another cuckoo. Both of them looked quite similar. 
I had a great time interacting with the cuckoos in my village orchard and fell in love with them. When the vacation was over, we had to come back and I started missing the cuckoos. I read a lot of articles on these birds and filled my room with posters of these beautiful creatures. After a few months, when we went to visit my grandparents again, it was already winter and the cuckoos had migrated. I never saw my friend again but I still remember its amazing red eyes and melodious voice. Cuckoos have since been my favourite birds.
---
In the session above, I have written three essays on three different birds. You can choose any of those according to your requirements. I have also tried to write the essays in a very simple language that every student can easily understand. If you still have any doubts regarding this session, please let us know through the comment section below. If you want to read more such essays on several important topics, keep browsing our website.
To get the latest updates on our upcoming sessions, kindly join us on Telegram. Thank you. See you again, soon.