In today's session, you will learn how you can actually write short essays on Dowry System within a predetermined word limit. There is going to be three different sets of essays covering different word limits.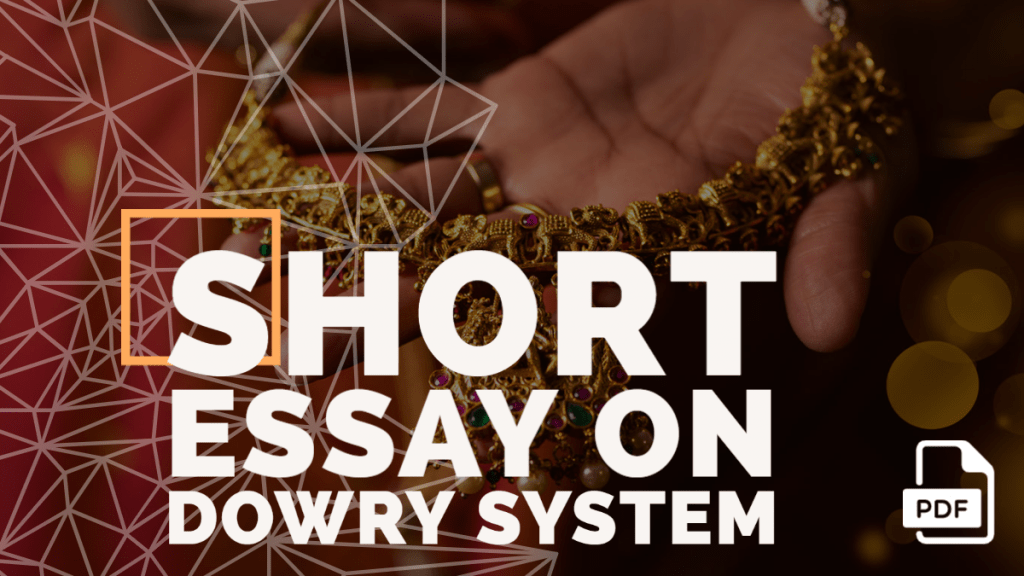 Short Essay on Dowry System in 100 Words
Dowry is a marital ritual prevalent in several parts of India and also in different parts of the world as well. Dowry means giving money, materials, gold which the bride's family pays to the groom. It is impossible to bear a dual expenditure of both the marriage and the dowry. Sometimes, a huge amount of cash is forcibly demanded by the groom.
This denigrates the girl into a commodity who is sold to her in-laws. In rural India, dowry is still prominent practice, where daughters of poor fathers are mercilessly tortured and killed if they fail to provide a good dowry. Presently, laws like the Dowry Prohibition Act have been implemented since 1961, where giving and accepting dowry are severely dealt with.
---
Short Essay on Dowry System in 200 Words
The term dowry refers to a ritual of a father giving her daughter some essential goods during the marriage, which will facilitate her a better living in her new household. Dowry at the beginning was a voluntary action, where the bride's parents gifted the newlywed couple things of their choice and financial ability. But presently it is often a forced action of the groom's family to make the bride pay luxurious materials for themselves.
The dowry system is an evil process where her parents are obliged to pay everything for their daughter, lest she is tortured and abused for it. Dowry is a huge crisis for the bride and her family on several counts. It drains all financial savings of one family and leaves them, pauper. Also, this dowry nowhere ensures the safety of the young girl. Rather It involves a risk of her life, since, in severe instances, she is murdered by her in-laws'.
Thus Indian government has taken a strict step to stop this evil. The Dowry Prohibition Act in 1961 ensures that women are no longer treated as a commodity or an additional burden. Dowry also provokes polygamy, where a groom marries several prospectus brides to sack dowry. This is a criminal practice and involves charges on money and also jail.
---
Short Essay on Dowry System in 400 Words
Any woman is destined to leave her parents and her house once she is married to a certain family. Her entitlement under a ceratin family makes her an intrinsic part of it, where it is the duty of the groom and his family to care for her. It is in this concept that the dowry system was started.
Since the girl as a ritual leaves her haven of the comfort of safety and comfort, her parents provide her with a voluntary sum of money, gold, and also other materials for her happiness. It escorts her to her husband, who is further reminded to look after her. As a show of honour and stability, dowry was paid by one side of the relationship to the other.
But presently, dowry is a sinful offence practised as a permanent ritual in India. The concept of sharing goods is now a forced activity, where the groom and his family forces the bride to pay them luxurious materials. In fact, dowry is associated with another crime of polygamy as well. A groom may marry several young brides for the lust of collecting dowry from different sources. Hence this dowry system is a crime, which never ensures the safety of the young girl.
The newlywed girl faces severe consequences if her father fails to provide for her as per the demands of her in-laws'. She is beaten, abused physically and verbally, and often tortured to death. Rabindranath Tagore's story Nirupama explicitly shows the fatality of this dowry system. A woman loses her feminine individuality and is treated as next to nothing by her husband and her new family.
Constant fear of her tragic end lurks in herself and her parents. Dowry is a greater burden for poor families, where the poor father becomes a pauper while giving his child the best and thus ensuring her safety. The bride becomes a burden for society when her dowry is not up to the demanded level. She is often forced to commit suicide, unable to bear tortures.
Standing on this perspective, the Indian Government has passed the Dowry Prohibition Act in 1961 which ensures that this hideous practice is terminated everywhere. If one is found observing it, a fine of 15,000 rupees and five years of jail is given as punishments to the condemned. A girl is never a sin, nor is she a burden to her parents. She must be provided with an education and not prize money at her marriage. Dowry destroys her and reduces her to a commodity. It is social crime behind feminist issues and must be stopped whenever it takes place
---
I have written the essays above with a very simplistic approach for a better and easier understanding of all kinds of students. So, hopefully after going through this lesson, all your doubts regarding this context have been resolved. If you still have any queries regarding today's session, kindly let me know through the comment section below.
Thank you.