Being a very popular festival worldwide, Christmas is an attractive topic for English essay writing. In this lesson, you will learn how you can write short essays on Christmas that you may find relevant for your upcoming exam.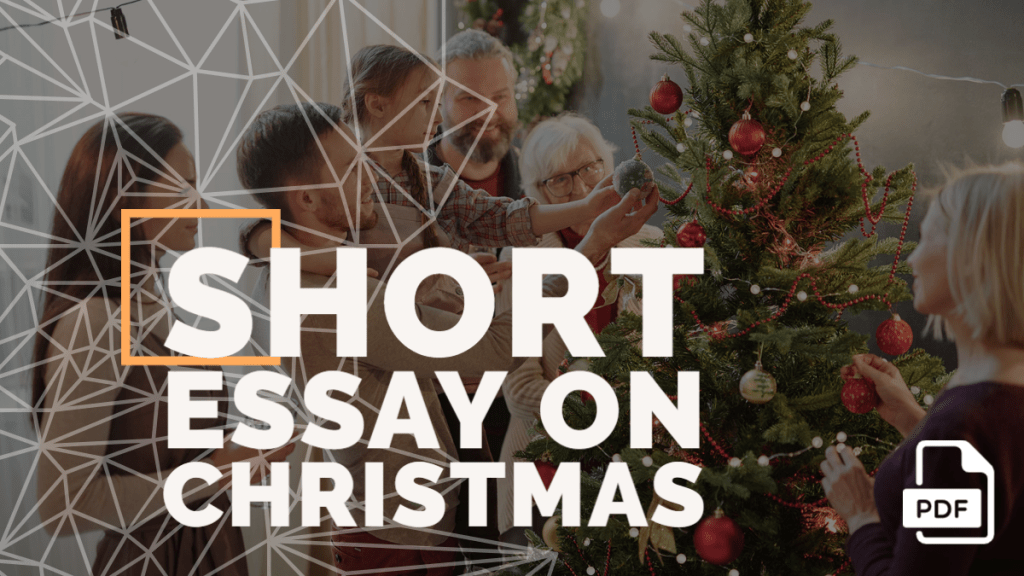 Short Essay on Christmas in 100 Words
Every culture has its celebrations which are important to all of us. These occasions help us to live and have fun. Christmas is one such festival. It is one of the biggest celebrations in the whole world. It is celebrated on 25th December. Christmas Eve is celebrated on 24th December. It is the day of the birth of Jesus Christ. Jesus, the god of all Christians.
He was born in a stable, in Bethlehem. Christmas is the greatest time for Christians because it is their only festival. During this time, they enjoy their vacation with family and friends. They visit the church and pray to Jesus. They bake cakes and cookies. Christmas is a time of happiness and the world rejoices at it during winter.
---
Short Essay on Christmas in 200 Words
What would have happened if there was no festival to celebrate? What would have happened if we had to work and study every day, with no recess? We would soon feel tired and unhappy. Thus the solution is celebrations. So it is the festivals that help us live. Festivals are important to us because it relieves us.
When we celebrate, we feel lots of energy. So celebrations are very important to all of us. Christmas is one of the biggest festivals in the world. It is celebrated worldwide. Everyone participates on this occasion. It is mainly the festival of the Christians. But today, the entire world enjoys the Christmas season. 
Christmas is the centre of all joys for Christians. This is the day to celebrate the birth of Jesus Christ. He was born on 25th December at Bethlehem, in Jerusalem, in a stable. His mother is Mary and his father is Joseph. Christ is worshipped by all Christians. On the day of this festival, they bake cakes and cookies. Everyone visits the church to pray to Christ.
They drink bread and wine to complete their prayer. Christmas is the occasion when they leave all their worries and only enjoy some days with their family and friends. The biggest attraction of Christmas is Santa Claus. He comes to distribute gifts to little kids. The winter vacation concentrates only on Christmas and then the New Year. 
---
Short Essay on Christmas in 400 words
Festivals are the biggest source of fun and happiness. Any upcoming festival keeps us energetic. We get all strength to work hard because we can enjoy ourselves during festivals. Christians have very few festivals. It is only during Easter and Christmas that they can have fun. So the winter is the time of their celebration. The world awaits the arrival of Christmas. They make preparations for a long period of time. So Christians rejoice the best during this festival.
Christmas is not just any festival. It is like the Janmasthami, where the Hindus celebrate the birth of Lord Krishna as a little baby. Just like Janmasthami, Christmas is the festival to celebrate the birth of Jesus Christ. Jesus is the Lord of all Christians. He was born on 25th December at Bethlehem, in Jerusalem, in a stable. His mother is mother Mary and his father is Joseph.
Jesus and Krishna have lots of similarities. Both of them were shepherds. Both were born in a very humble household. Both of them preached about peace. They taught us not to hurt others, even plants and animals. Being kind to all was their biggest teaching. So Christmas is as beautiful as Janmashtami.
On the eve of Christmas, on 24th December night, people arrange a Christmas tree. They decorate it with gifts and lights. They also bake cakes and cookies. Lots of guests are invited. Those who are rich, throw parties at their houses to celebrate Christmas. On the morning of Christmas, they visit churches and pray to Jesus for the overall peace and well-being. They are offered bread and wine to eat as the blessings of Christ. After they return, their festival starts with sharing food and serving the poor.
The saints, popes, and nuns serve the needy as part of the celebration. The biggest fun of Christmas is Sants Claus. He arrives the night before Christmas and distributes gifts to good children. The kids rejoice at the gifts, which increases their happiness.
Now Christmas is not just a festival of the Christians. It is now for all. In India, everyone enjoys the winter vacation. Kolkata is one of the biggest attractions during this time. It lights up beautifully and people come out of their houses to have fun. Eating cakes, praying to God is now the ritual of all. Christmas is the best year-end celebration that soon passes into the new year.
---
That was pretty much everything about writing short essays on Christmas. In the session above, I have discussed every possible aspect of this popular festival. Here also I adopted a simplistic approach of writing in a very simple language for easy understanding of all kinds of students. If anybody still has any doubts regarding this session, they can comment down below. To read more such essays on important topics keep browsing our website.
Thank you.