You will learn how to write short essays on the topic of 'A visit to a Park' in this session. There will be three different sets of short essays on the same topic covering different word limits.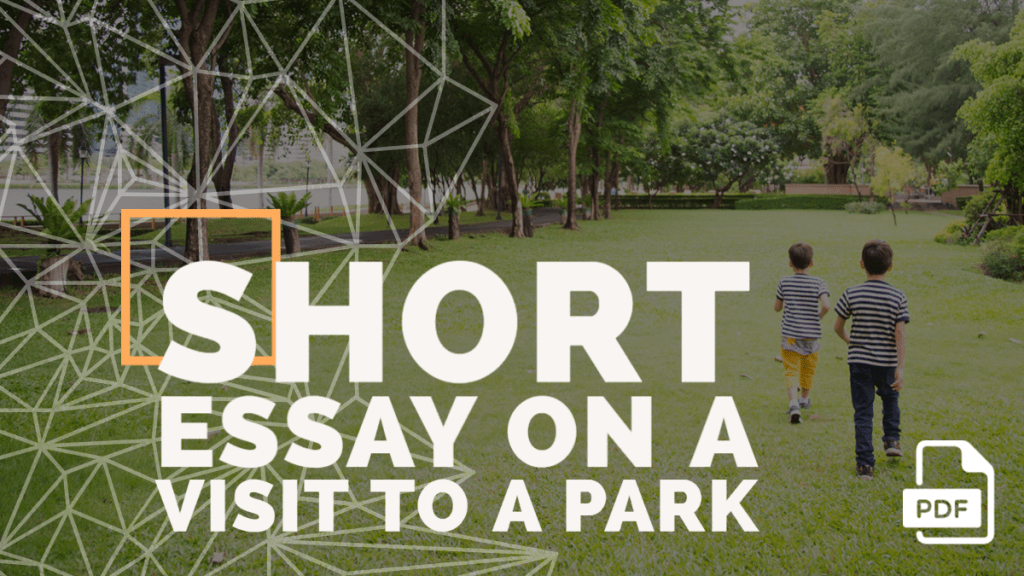 Short Essay on A Visit to a Park in 100 Words
All of us need some sort of entertainment in our lives. We tend to visit several places to spend some quality time with our parents and family. Visiting a park is one of the most fantastic attractions in all of them. I recently saw a water park in Kolkata to boost myself up after long-drawn pandemic jeopardy. Visiting there with my friends was an additional reward.
We enjoyed each other's company, laughed, played, and hyped the energy. It was such a bliss to be out in the open sun. Everywhere there was mirth and playfulness. I felt how even a small excuse of visiting a park can bring together so many people. The visit appeared to be more like an unbridled and happy social meeting. 
---
Short Essay on a Visit to a Park in 200 Words
Entertainment is a mode to unleash all our suppressed passions and desires and enjoy a short moment of life with fun and happiness. For that visiting parks, places of heritage, zoos, museums, or having a simple picnic can be those several ways to enjoy our vacations and pass times. For me visiting a water park is great bliss.
Recently I and my friends went to a nearby water park in Kolkata that is well known for its water slides, fun, games, and also the ambience of happiness. We readily agreed to visit the park and make the day memorable. Reaching there we bought ourselves tickets and took some costumes to enjoy the water slides. We felt both excited and terrified viewing the giant rollercoaster and the ups and downs of the ride. Yet gathering all our courage we went on.
We got into it consecutively and as soon as the ride started we felt the greatest enjoyment of our lives. Each and every ride was wonderful, especially the water slip and the pool rides. In fact, the park also accommodated some really cool cocktail outlets and a platform to enjoy the music going on. The entire environment was one of mirth. After losing time in the pandemic, the water park visit became a fruitful experience get-together, as many friends came together who would have otherwise been disconnected for a while. 
---
Short Essay on a Visit to a Park in 400 Words
Taking any journey with people we love is always a rewarding experience. Whenever we find ourselves in a pensive mood, we feel desperate to attend a place of fun and excitement. Visiting a park, be it any local ground or an exclusive park with sophisticated rides and slips, strolling at parks is always a great exercise for the mind and body. It releases all our clogged emotions and makes the mind as free and wide as a huge green field. Visiting parks has often been a medicative remedy.
Many old people along with kids practice visiting to park in the morning and dusk. It enables them to maintain a healthy body and mind and feel carefree. Similarly for me visiting a park has also a great purpose. Recently I went to a famous water park in Kolkata, that is quite renowned for its water rides.
The park also has a separate underground base station for dance and music, where young people can spend their quality time. The entire park is well decorated with cartoons and animals, which in turn become viable for little kids. The park's beauty attracts lots of visitors every summer. Also, the cocktail outlets lying adjacent to the water park add up to its beauty. 
Recently, I got a wonderful opportunity to get together with my high school friends and spent a great time with them in that water park, I hardly could have denied such an option and readily agreed. It was also a moment of nostalgia since these friends live far away without that old bonding. We arrived as one of our friends has already got our tickets. We opted for the rollercoaster ride, although it rose great fear and excitement in us. It was as majestic as it was fearful.
Once into it, we realized how beautiful the company was. We were thrilled with joy and enjoyed all the water rides with extreme fun. The summer heat no longer felt tormenting us as the mirth filled the air. After completing the rides we changed our dresses and quickly visited the dance p[platform. We enjoyed each other's company and forgot the passage of time. Happiness, like bubbles, brewed up till we returned back and parted our ways. 
Visiting a water park that day was not any show of our sophisticated taste. But it was god's grace that all our long-lost friends got reunited. Those lost memories were once again relived and cherished as if it was anew. I still can feel the happiness of that day and will never forget this wonderful memory.
---
After going through this session, if you still have any doubts regarding this context, kindly mention that in the comment section below. Keep browsing our website to read more such sessions on various important topics.
Thanks for being with us.