In this lesson, you will learn how you can write anchoring scripts for any retirement functions. This session will focus on functions organised in both educational and non-educational institutions. So, let's start. 
Table of Contents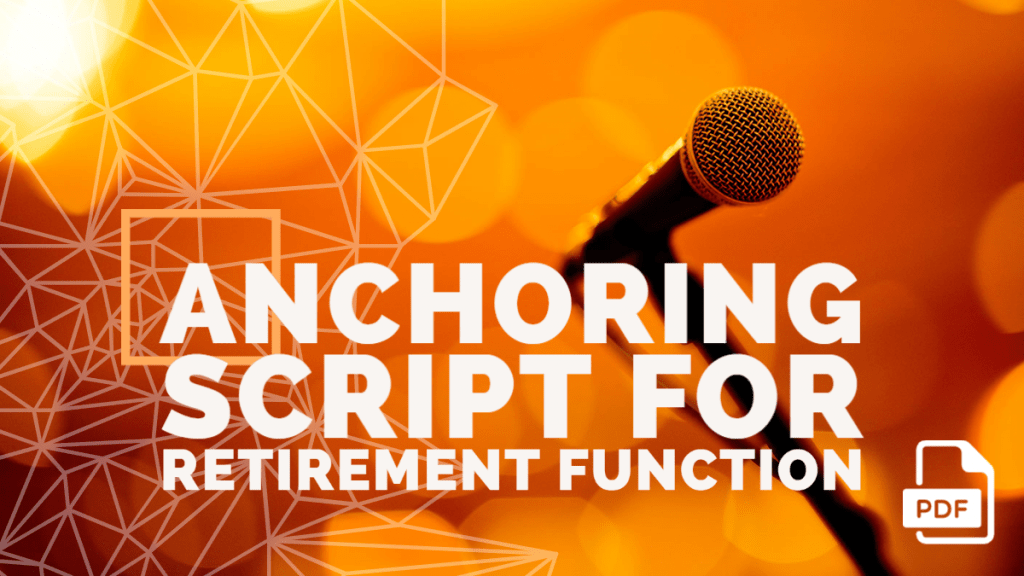 Welcome Speech (For school/ Educational institution)
Good morning/afternoon/evening to our respected principal sir/ ma'am ( his/her name), our reverent teachers, non-teaching staffs, and all our students present here. Today our hearts are heavy, as it is the final office of our respected principal. He/she has been much beyond our principal. What wasn't he/she? I remember being his/her student. He/she used to be our geography teacher back then, and every time we had his/her class, we were sure that today the best one of all classes would happen.
You know sir/ ma'am, I still remember those diagrams you used to draw on the board and teach us the necessary chapters. What was the greatest aspect of being his/her student was that we never had to worry about the exams. He/she would always have been our greatest strength. And when you are leaving today, it feels like we are being left parentless, as if someone is taking our guardian away and leaving us in darkness. What are we supposed to say, we cannot. 
But just for all you have contributed to us, we have tried to pay a humble homage to your great deeds for our institution as well as for the entire course of your career when you have helped so many. It is nothing, but maybe a piece of our hearts. So without any further ado let's move on to the main program. To begin with we have an inaugural song performed by our music faculty (name of music teachers). I will request them to come onto the stage and take the course of the program.
Welcome Speech (For Office or Non-educational Institutions)
"Just don't retire, have something to retire to and leave behind us"
Good morning ladies and gentlemen. Today we have gathered for a reason that is beyond the scope of any official task or meeting. It is a very sober moment to think about. Today is the last official day for our very dear and respected (his/her name). It is quite easy to say that all that has arrived must leave us one day. But it's easier to preach than to practice.
So we can't really take this easily that such a loving and dear person will no longer be found in that usual cabin, nor will these official pacers have his stamp and signature, nor will we get to hear those humming songs and laughter he/she used to share with all, no longer will we have such a lively atmosphere here again. Mr./Mrs. (his /her name) has helped us in several ways.
He/she was the principal strength behind the development of our company and the assessment of so many young boys and girls. What was his/her greatest strength was that he/she could realize the true potential and pay them due respect. The entire structure of this office is his/her brainstorming. And today officially marks the end of all. But just that won't remove (his/her name) from our life. Forever he/she will be the greatest resource of our office. 
Today we have arranged for a simple farewell function to honour his/her greatness, experience, and expertise which, as a legacy, has passed on to us I will request (male singer's name) to sing the welcome song and start the program.
After the Welcome Song (For Educational Institutions)
Thank you so much to our music faculty for presenting such a wonderful chorus of beautiful songs. What is more engaging is that all these songs are quite favourites of our principal sir/ma'am. We have heard him/her sing these so many times alone while working on his desk or even at social gatherings. These songs will forever remind us of you, sir/ma'am.
And now let's move on to the next program. Our secretary (his/her name) has a lovely speech to share with us about how (principal's name) has been the biggest support throughout his career.
After the Welcome Song (For Office or Other Institutions)
Thank you so much (male singer's name) for this lovely presentation. It is great to listen to retro songs that strike a certain nostalgia in us. Also, all these songs are favourites of (his/her name) and so I feel such a gift from (male singer's name) will definitely be a fond memory for us.
Now I will request our assistant executive (his/her name) to give a short speech about how (the retiring person's name) has brainstormed the entire company to the heights of success, even rendering it to international fame. I will request him/her to come upon the dias.
After the Secretary's Speech (For Schools or Educational Institutions)
That was extremely heart-touching. Thank you so much (his/her name) for this speech.
If I talk personally about myself, I will never be able to end my memories with principal sir/ ma'am. They are so fond and beautiful that even till my end days those memories will be intact in my mind. I will share one such incident. It was a rainy day and everywhere was flooded. It actually rained the last night and the weather was gloomy in the morning.
Somehow I decided to leave for school because exams were near already and I had already missed some classes. Just when I am half a heavy shower suddenly started with extreme thunder and lightning. I was so scared that I started running on the roads in that situation. I don't know what happened but suddenly ma'am spotted me like that from his/her car and immediately came to my rescue. He/she fetched me and informed me that classes were dismissed.
We didn't have WhatsApp then and so information was not easily received. He/she rescued me, informed my parents about my safety, and even brought me back home in the evening. I still get shivers when I think of that day. I don't know what would have happened to me if sir/ma'am wouldn't rescue me then. I can never say thank you to someone who saved my life. 
I am getting emotional. But we will move on with our next performance. A dance cover has been choreographed by our students and they will present it in front of their dear principal sir/ma'am.
After the Speech (For Office or Non-educational Institutions)
Thank you so much sir/ma'am for this speech. It indeed reminds us of so much of our past. As a friend and colleague of (retiring person's name), I have seen how terrific it was for him/her to build up this dream. It was never an easy job. I remember him /her spending nights long plannings, strategies, and all sorts of schemes to create a customer-based company which will be ethnic and also embrace the global phenomenon. One night I remember how he/she called me up.
I believe it was midnight. I received the call and heard his/her crying tone. He/she said of giving up, leaving this project and leading a generic life. I tried to calm him/her down. The next day we caught up in a cafe and made a whole list of our future decisions. We tried bringing a shape to what we are now. The way he/she pushed himself/herself beyond all boundaries was terrific. He/she gave his everything, his peace, comfort, and ah[[iness to accommodate the world. I look up to you for extreme mental strength. Hats off to you. 
Now I will request his/her wife/husband to share how he/she has been excellently balancing the work-life and household simultaneously.
After the Dance Performance (For Schools or Educational Institutions)
The dance performance was wonderful. Thank you so much students for this lovely presentation. 
Now I will request our vice president (his/her name) to hand over to our respected principal sir/ma'am some minimum accolades as the memorials for his/her retirement. I will request our principal sir/ma'am to come upon the stage and accept these humble gifts, After that, I will request him/her to share some of his precious moments with us and some encouraging words which will be the greatest inspiration for all our future generations.
After the Speech (For Office or Non-educational Institutions)
I am overwhelmed to be a part of this personal space, those emotions, toils, and pains, and of which I too am a part. Now I will request (retiring person's name) to come upon the stage and share with us some of his/her best memories of this career. I wish those memories are not just valuable pasts, but also valuable life lessons.
Ending speech (for school or educational institutions)
I would simply say let this moment never die. I just want this to prolong forever. But materially it is impossible and we must bid him/her goodbye. But we are never actually doing so. We will forever remember his/her teachings and the way of life he/she used to lead. That will be our guiding light towards a more prosperous future. Thank you sir/ma'am for all you have given us and all you are. We pray for your long life and good health. Thank you, everyone.
Ending Speech (For office or Non-educational Institutions)
The time has come to an end to say goodbye to this great friend and guardian of mine. I have never thought of handling this place without him/her and now when that's happening I am frankly in doubt of how much of his/her ideas and legacy will I be able to pass in. But I promise to keep your dream safe as you have done it. I will care for it my whole life. Thank you for all that you have been and all that you have shared with us.
Note: This is a sample script meant to provide you with a basic idea of how to write an anchoring script for a retirement function. Feel free to use this script and edit it as per your needs.