In today's session, you will learn how you can write an anchoring script for a new year's celebration event. So, without further delay, let's start.
Table of Contents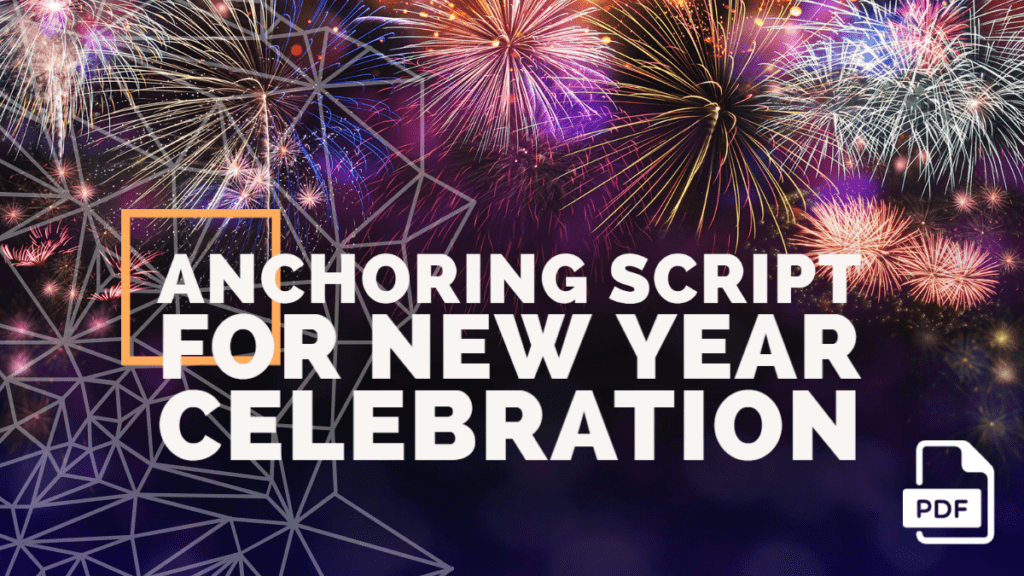 Welcome Speech (For School/ Educational Institution)
It is said a new day is a burst of new sunshine. Forget about the past and move forward towards a life more precious. Good morning to all our respected teachers, and dear students present here. Happy new year to all of you. It is always wonderful to see many of our students gather this morning and celebrate the first day of the year.
It is essential to begin the day, you know, with all possible happiness. Myths are popular around the world and starting the new year with a joyous time will continue our prosperity throughout the year. Today we will have only fun games, dance, and music. In fact, our institution has arranged a magic show to enliven all of our students.
Also, a quiz competition will be organized, and at the end of today's program, our institution has organized a wonderful fest. So let us join our hands in celebrating the greatest day of the year. I will request our chief guest, the honourable Mr./Mrs./ Miss (him/her name) to inaugurate today's program.
Welcome Speech (For Clubs)
Welcome to the greatest night of the year, the 2022 New year's party eve. Today we will be indulging in nothing but boundless fun, happiness, and joy, forgetting all our past grudges and beginning the next day, the new day of the new year with utmost satisfaction in the faith of keeping up to our best selves. But tonight on this eve, we will also forget all our pains and problems that we have experienced so far
Ladies and gentlemen, tonight there is music, dance, fun and games, refreshments, drinks, and dinner, all to temper up the perfect party mood. So join hands with your friends and close ones. Let's all of us begin the party. I will request our chief guest, the honourable Mr./Mrs./ MIss (hi/her name) to inaugurate today's program.
After the Inaugural Speech
Thank you so much, sir/ ma'am, you can have your seat and enjoy with us the rest f the program. The new year for me, especially when I was quite young, was more of a festival. I remember waiting almost the entire year for the Christmas vacation and the subsequent New year's holidays. I was from a convent school, and so we had those extended winter vacations.
That was quite enjoyable for me. I remember saving money almost from the end of the puja vacation and keeping that for buying new year cards. And that was the most beautiful memory of my childhood. I remember those beautiful little cards, pop-ups, and the small envelopes in which I used to put those cards, seal them, and label them according to our best friends.
In fact, the biggest and the best card was for our teacher, the second-best for the best friend, and the rest was a monotonous bunch for others. I remember spending a whole week in happiness and bringing home a bunch of new year cards. That was a childhood completely innocent, untouched, and happy. Nowadays when I see those cards I am reminded of my childhood.
And I still buy one for myself. I hope many of you do. And so keeping parity with this occasion we have arranged distribution of new year cards, chocolates, and flowers to everyone. Volunteers will go to you and pass you these little gifts. After that, we will move on to our musical journey.
Post Musical Journey
That was wonderful. I was so delighted spending a whole hour grooming to the dancing beats of such a wonderful band. It was really tough to organize such a program. We could hardly have imagined that such a famous band would be with us at this moment. They are really famous and busy, and the best musicians in the nation. They have performed on several international stages and earned high esteem. I will cordially thank them for giving us this wonderful experience for the new year. Thank you so much (band's name )
Now let us head-on with our program. The next part of the attraction is a great stage performance by the dancer couple (his and her name). I will request them to ornate the stage with their performative bliss.
After the Dance Performance
That was a mind-blowing performance. I just couldn't keep my eyes off. When they were dancing it felt that the entire Paradise had come over on earth. It was so magnificent that it could not be described in any words. This synchronized so beautifully. Every step and every rhythm was so well managed and beautifully conducted.
In fact, they have recently received a national award (award's name) and have a huge sandwich in the internet world. More than 1 million followers subscribed to their art. Having them today with us is a great opportunity because they are so humble to spend their precious moments among us, while several other performers have rejected our offers.
Thanking you will be extremely cheap. So we would like to express our gratitude and honour to you by handing over this memento and a small bouquet of flowers. A huge round of applause for ( the dancers' names).
Now we have organized a go-as-you-like where several participants have taken up the occasion of New year to celebrate their artistic personality. So let's welcome them one by one onto the stage.
After the Go-as-you-like Performance
It was a brilliant show of talent to find such youngsters and even middle-aged people come up with such wonderful ideas of dressing up as personalities and also as a concept. Forever I have thought that occasions like this are meant for picturing only famous people as we have seen on Independence Day, maybe Republic Day.
Dressing up as a concept to showcase the rising pollution of the country, the effects of the pandemic, and the tremendous pressure the gendered society is going through, all are beyond explanation. I am extremely thankful to all of you for creating such innovation out of nothing. A big round of applause for all of them.
It is almost time for us to celebrate the countdown of New year. I will request our technical staff ( his/her name) show us the clock on the big screen.
As we can see almost and still left for us to melt into the final remains of this year. We will do so. We have arranged a quick musical round for some of our participants. It is not just any musical arrangement but a small quiz is associated with it. Participants will be asked a question after a track is played. If he or she answers it correctly then they will get 5 points and qualify for the next level. 10 participants have shown up for this round. So I will call them up on the stage.
After the Quiz and Musical Round
We have arrived at the end of this round. It was really breathtaking. Everybody performed wonderfully. So I will declare the winner. And the award for this round goes to (his/her name). Congratulations!
Just half an hour is left for the clock to ring the first bell of New year. So without any further ado, let us all now join our voices together. At this point, I would like to share my childhood experience of the last half an hour of a year. I can still feel that heartbeat, that excitement which in childhood I used to enjoy with my parents. Sitting in front of the TV I would watch the broadcast of several countries celebrating the new year together with such pomp and show.
And the best part was that even being divided by several time zones the happiness was equal, the happiness was the same. From the beggar to the millionaire everybody enjoyed that one moment, where all hope happiness, and prosperity for the next 365 days. I will request all of you to join your voices and sing beautifully and happily at the end of the year so that the coming day becomes the safest and the most prosperous one. I will request our musicians to play the tracks selected.
Ending Speech
It was really lovely to see all of you sing together the last few minutes for getting all your grudges, pains, and anxiety. The time shows that only 30 seconds are left. Let us know all light the candles in our hands and pray to almighty that whoever is there, wherever they are, be it poor or rich, God please keep everyone happy and in peace. May our forefathers be happy and our next generation is calm. Let's begin the countdown, everyone, join your voices. 10…9….8…7……..3….2….1… Happy New year! God bless you all. Thank you, everyone.
Note: This is a demo anchoring script for a new year's celebration event. Feel free to customize this script according to the demand of your event. Put your queries in the comment section below for any clarification. Join us on Telegram to get the latest updates on our upcoming lessons.
Thank you for being with us. Have a great day ahead.