So, welcome you all to today's session. In this session, you will learn how you can write '10 Lines Essays' on Swami Vivekananda. Here, I will be writing three different sets on the same topic for students from different grades. The difficulty level will gradually rise with the initial one for kids.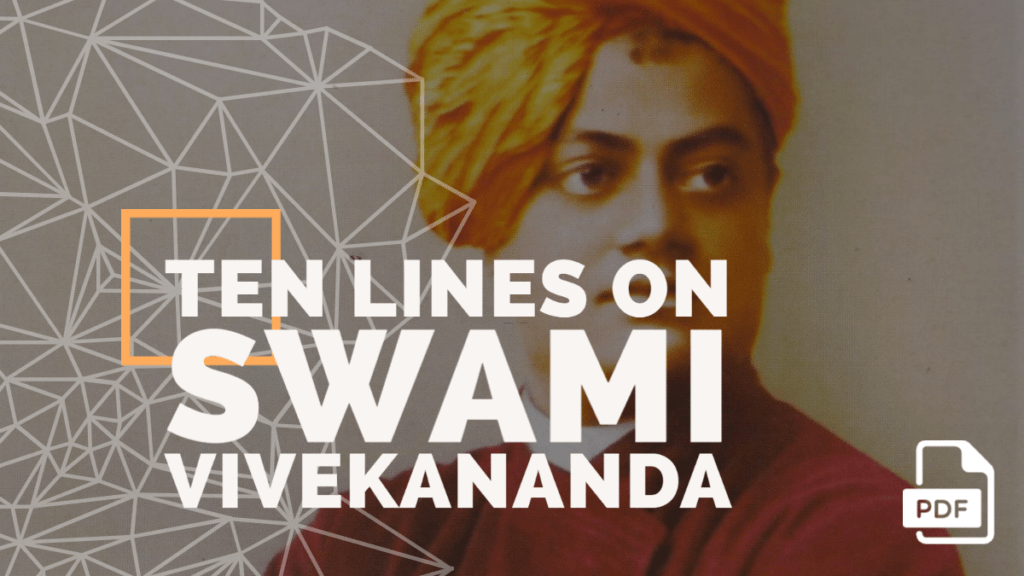 10 Lines on Swami Vivekananda for Kids
Swami Vivekananda was an Indian monk and philosopher.
His birth name is Sri Narendranath Dutta.
He was born in Calcutta, Simla area in 1863, on 12th January.
His father's name is Viswanath Dutta, and his mother is Bhuvaneswari Devi.
He took the name Swami Vivekananda after adopting a monk's life.
Swami Vivekananda was a brilliant student from his early childhood.
He used to love to play various sports like Wrestling, Football, hide & seek etc.
His Guru was Sri Ramakrishna Paramahansa who inspired Vivekananda in social work.
He went to the United States and delivered a beautiful speech at a world conference.
We all read about Swamiji in our school and love him very much.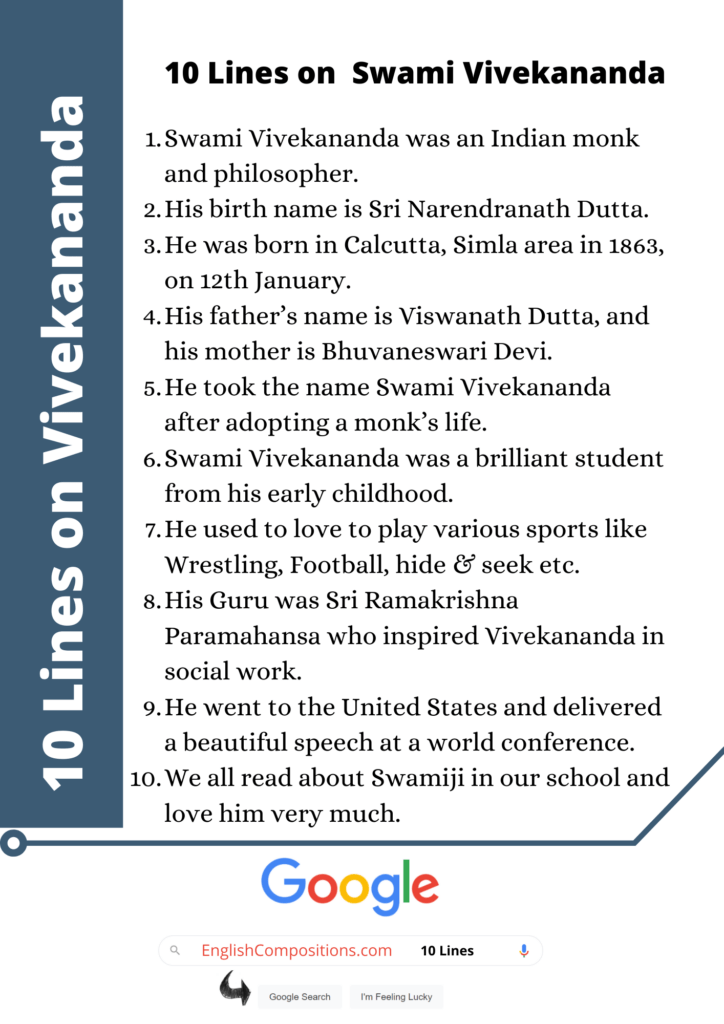 ---
10 Lines on Swami Vivekananda for Classes 1,2,3
Swami Vivekananda was a Hindu monk and philosopher from British India.
This great man was born on 12th January 1863 in Calcutta.
Known as Narendranath Dutta since birth, his parents were Viswanath Dutta and Bhuvaneswari Devi.
From his early childhood, Narendranath was interested in various types of sports, books, and most importantly spirituality.
He studied at Scottish Church College and is known as a brilliant student.
It is said that he could read any book within a very short time.
At a very young age, he met his guru Sri Ramakrishna Paramahansa and spread the Vedanta philosophy around the world.
After the death of his Guru, he took the new monk name Swami Vivekananda.
In 1899, Vivekananda established the famous Belur Math and started Ramakrishna Mission to serve society.
This great monk of India died in 1902, at the very early age of 39.
---
10 Lines on Swami Vivekananda for Classes 4,5,6
Swami Vivekananda was a pioneer of modern Indian thoughts and philosophy.
He was born in the Simla area of Calcutta, the contemporary capital of British India.
His father Vishwanath Dutta was a lawyer and his mother Bhuvaneswari Devi was a noblewoman.
Swami Vivekananda's real name was Sri Narendranath Dutta and he was sixth and the eldest son of his parents.
His younger brothers' names were Mahendranath Dutta and Bhupendranath Dutta.
Narendranath was a very brilliant student since his childhood.
He possessed some amazing skills like memorising anything after reading once, sitting in meditation for hours, and not being afraid of anything.
At the age of 18, he came in touch with his guru Sri Ramakrishna Paramahansa for the first time.
He got spiritually enlightened with the help of his guru and dedicated his life to professing the glory and antiquity of the Hindu tradition ie. Sanatana Dharma in his monk name, Swami Vivekananda.
This great Indian monk who authored many books like Bhakti Yoga, Karma Yoga, Paribrajak etc. died in 1902 in Belur Math just at the age of 39.
---
In this lesson, you have learned about writing '10 Lines essays' on Swami Vivekananda. Hopefully, after going through this lesson, all your doubts regarding this have been resolved and you will be able to write such compositions on your own. If you still have any doubts, kindly let me know through the comment section below. I will try my level best to resolve your queries.
Thank you for being with us. All the best.