In this lesson, you are going to learn how you can write 10 Lines about Your Favorite game. Here I will write three sets of 10 Lines on the same topic, and the difficulty level will rise gradually.
Table of Contents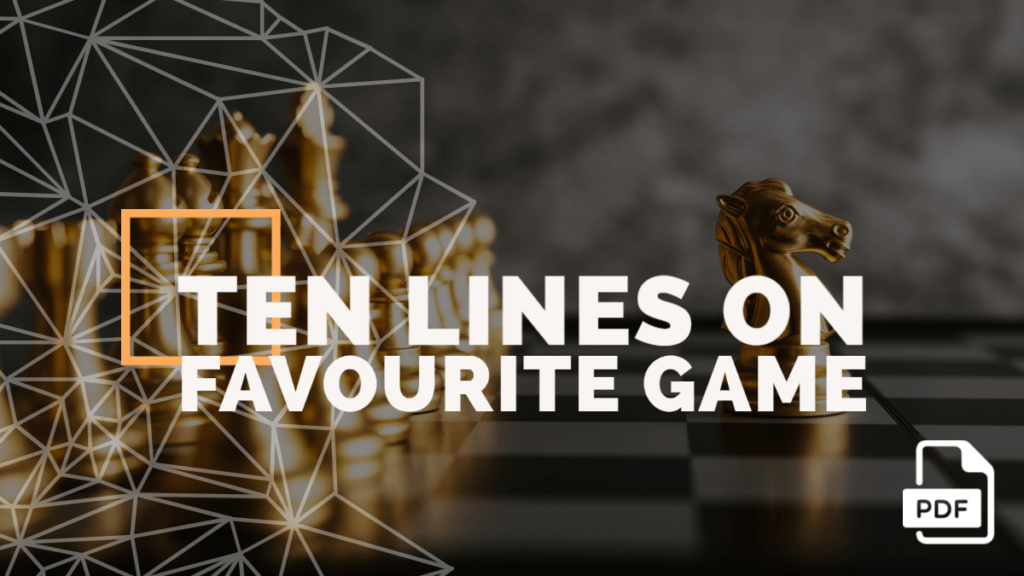 10 Lines on Favourite Game Cricket
My favourite game is cricket.
Cricket is an outdoor game which is played with a bat and a ball.
The game is played between two teams and each team has eleven players.
One team bats and the other team fields.
There is an umpire on the field who makes sure that rules are followed.
Before the game starts, a coin is tossed to determine which team will bat and which team will bowl first.
The batsmen try to make as many runs as possible.
The ballers try to hit the wickets and stop the batsman from making runs.
The international cricket council is the highest governing body of cricket in the world.
I play cricket with my neighbourhood friends in our local park.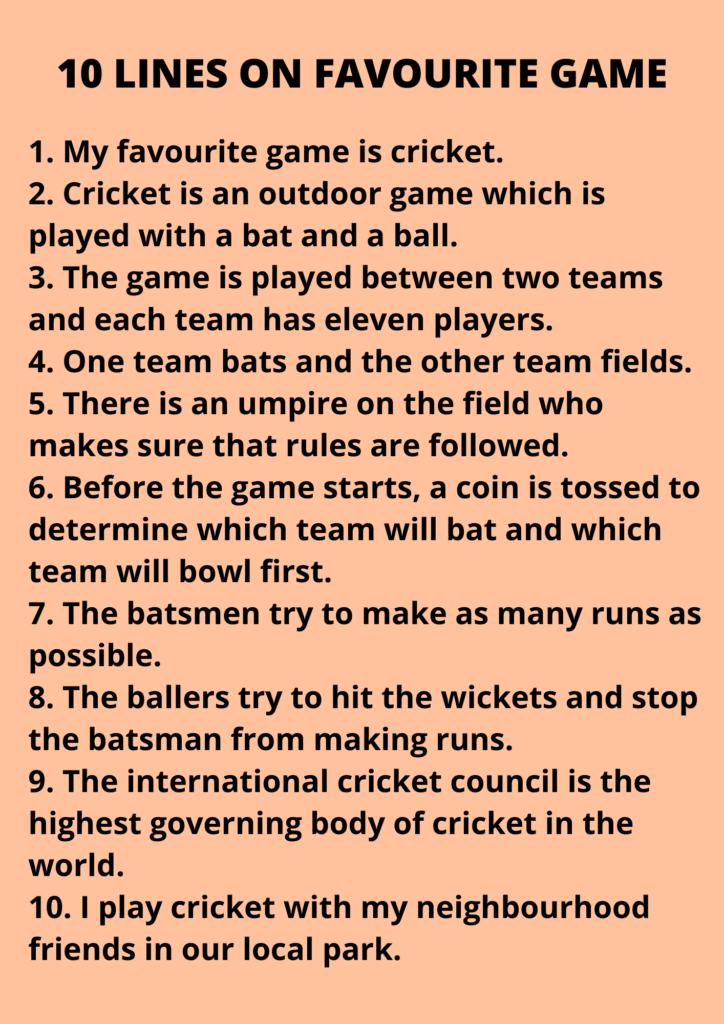 ---
10 Lines on Favourite Game Badminton
My favourite game is badminton and I play badminton every evening.
It is a two or four-player game which is played using a racket and a shuttlecock.
Badminton is essentially an indoor game but it can also be played outdoors.
Before the game starts, a coin is tossed to determine which player will serve first and which player will receive first.
For the next games, the winner gets to serve first and the other side receives.
The court of badminton is rectangular and is divided into equal halves.
There is also a net in the middle which separates the players.
Badminton is very popular in countries like China, Denmark, Canada, France, England, New Zealand, India, etc.
Saina Nehwal, PV Sindhu and Pullela Gopichand are some famous Indian badminton players.
The top council of badminton in the world is called the badminton world federation.
---
10 Lines on Favourite Game Chess
I like games that are challenging and hence, my favourite game is chess.
Chess is an indoor game which is played between two people.
Chess originated in ancient India some 1500 years ago and was initially called chaturanga.
In chess, there are sixteen pieces on each side.
On each side, there are eight pawns, two bishops, two rooks, two knights, one queen and one king.
They are arranged on a chessboard and the players move them according to the rules.
Playing chess is said to improve concentration, focus and memory and enhance analytical skills.
India, Russia, Ukraine, China and Israel are some countries where chess is famous.
Russia has the highest number of Chess grandmasters in the world.
Vishwanathan Anand is the most famous chess player in India and he has won the world chess championship five times.
---
In this session above, I have tried to cover all the aspects relevant to writing 10 Lines on Favourite Games. Hopefully, all your confusion has been cleared on this topic after going through this lesson. If you still have any, kindly keep me posted in the comment section below.
Keep browsing our website to read more such lessons. Thank you.