In today's lesson, you are going to learn how you can write '10 Lines Essays' on Diwali. Here, I'll be writing three sets of '10 Lines Essays' on this topic. The initial one will be for kids and the level will rise gradually with each set. 
Table of Contents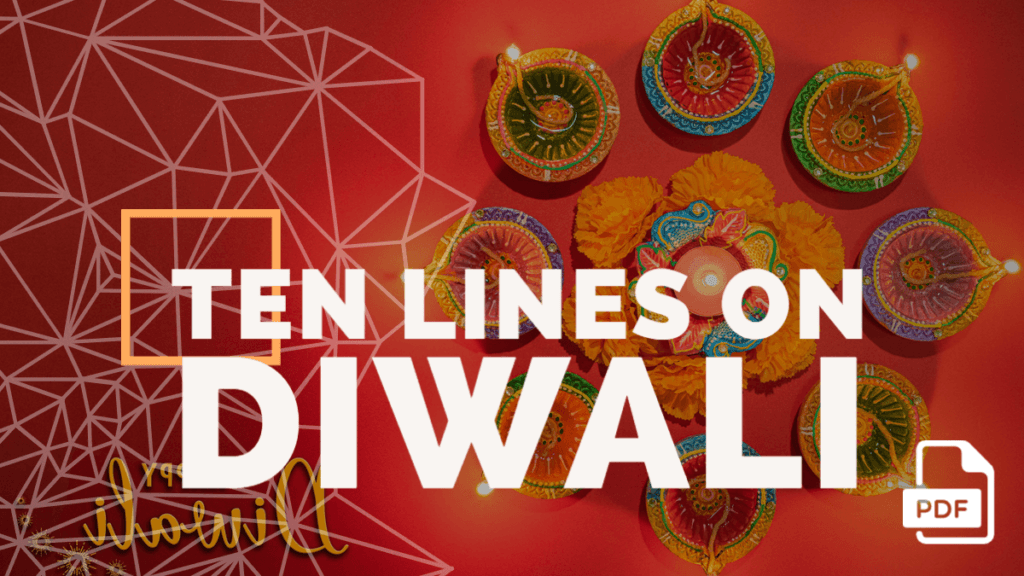 10 Lines On Diwali For Kids
Diwali is a very happy festival.
After Dussera, Diwali comes.
We light up Diyas on this day.
I celebrate Diwali with firecrackers.
My parents always tell me to be careful with firecrackers.
We light up our house on Diwali with rice lights.
I go out with my parents on this day.
In the evening, many of my relatives come to our home.
My father brings so many types of sweets and gifts on this day.
At night, I play games with my friends and eat good food.
---
10 Lines On Diwali for Classes 1, 2, 3
Diwali is a festival of light.
The entire city gets decorated with so many kinds of lights to celebrate this day.
We light up Diyas and candles in our houses to celebrate Diwali.
I help my parents to clean the house and decorate it.
My mother cooks delicious food on this day.
Our entire family stays together to celebrate Diwali.
Sometimes, I go to my friends' houses along with my parents and sometimes they come to ours on this occasion.
We burn many types of firecrackers and light up our surroundings during the night.
I help my father in lightening the crackers and learn from him.
At the end of this day, we all pray to god to give us good fortune and bring the light of hope to the world.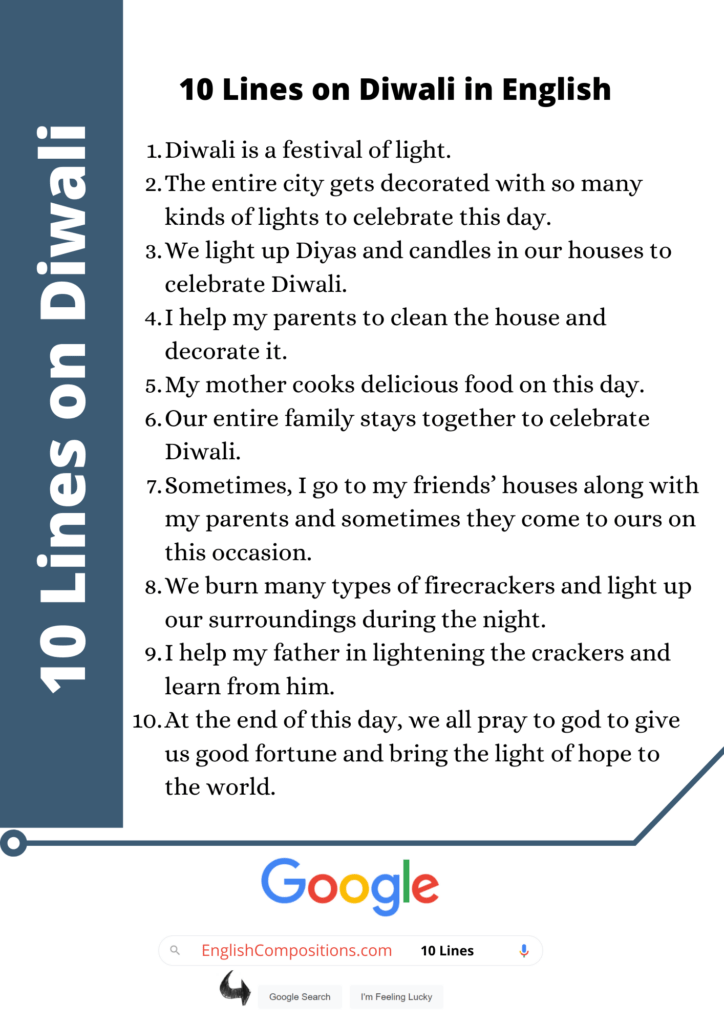 ---
10 Lines On Diwali for Classes 4, 5, 6
Diwali is an amazing Indian festival that is now being worldwide appreciated.
It is a festival of light and joy that is celebrated every year on the occasion of Lord Ram's return to Ayodhya after the Lankan victory.
Diwali is celebrated with great grandeur all around India in many forms.
In Bengal, Diwali is widely famous as Kalipuja, and most of Northern India celebrates it as Deepavali.
In Southern India, the famous Rangoli festival gets celebrated with creativity.
We celebrate Diwali with Diyas and firecrackers.
But firecrackers become a major reason for air pollution in many parts of India.
The exchange of sweets and gifts is a very common practice among relatives and friends on this occasion.
Now, Diwali gets internationally celebrated in many parts of the world like the US, Europe, and even the UAE.
It is a national holiday all over India and is celebrated as a traditional pride of Indian Culture.
---
Hopefully, after going through this session, you have a holistic idea regarding this topic of '10 Lines'. If you still have any doubts regarding it, post them in the comment section below. I will try to resolve your query at the earliest. Keep browsing our site for more such content.