This Letter Writing is all about how I am spent my time during this Pandemic. It is one of the current topics that can be very helpful for your exams.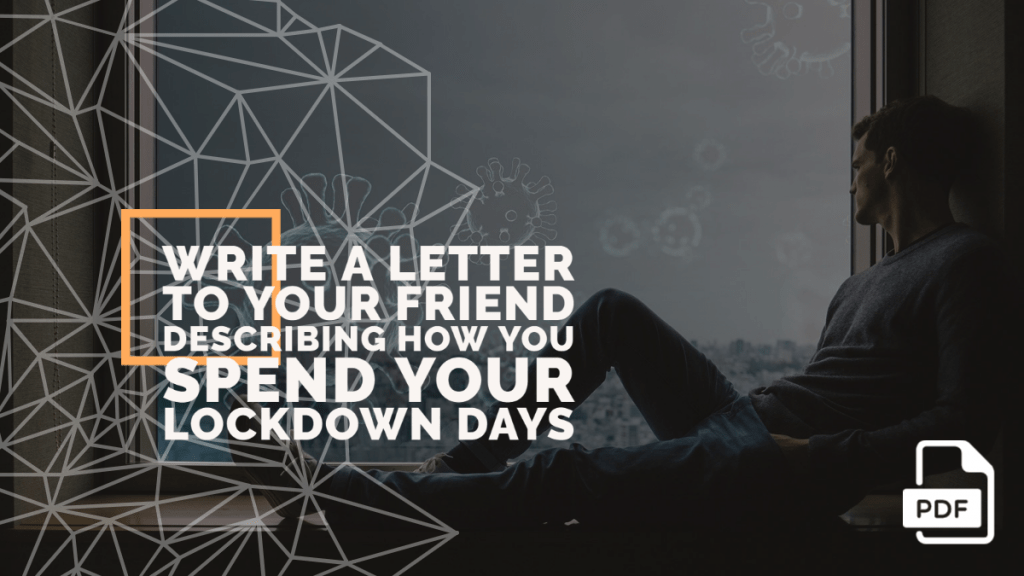 Example 1
14B-block,
Medinipur, 725041,
January 29, 2021.
Dear Suman,
I just read your letter. It was a huge relief to know that your family is safe. I know you must be curious about my lockdown life. This lockdown period has been very strange. All this time was spent without friends.
I had both happy and sad lockdown experiences. I stayed at home and followed all the Government guidelines religiously. I invested a lot of time in hobbies apart from studying.
We built a small garden in front of our house. It feels awesome to see the blooming flowers and plants. This time has helped me introspect my life and freshen up for the forthcoming challenges.
I stop my letter here. Take care dear. Hope we meet each other soon. I am eagerly waiting for your response.
Your loving brother,
Deepak Goyal
---
Example 2
650-2a, Belgharia
Kolkata, 700065,
December 12, 2020.
Dear Meera,
I missed you during the holidays when I was in the Maldives. This was an unplanned trip. But, this was one of the best vacation spots that I have visited. I am attaching some photos with this letter.
We were scared to go on a picnic due to the Covid situation but the authorities here have taken all the required precautions to keep us safe. I enjoy a lot of water slides, fishing, surfing, food, new culture, and a new environment.
How're your studies for our exams going? I will have to come back and invest a lot of time to make up for all this enjoyment. I will see you soon when I get the next holiday. I hope we will meet soon. Till then you enjoy all the pics and videos I will send you with this letter.
Your loving friend,
Lovey
---
Example 3
336, Raghunathpur,
Jhargram, 721507
January 6, 2021.
Dear Anita,
I really hope you are fine. I am fine here. It's been so long since I wrote you a letter. Apologies for the same. I was very busy with work from home and adjusting to the new lifestyle.
I was working from home during the lockdown. Ironically, I enjoyed working from home. I enjoyed the comforts and stress-free environment away from the usual office space. It might sound strange, but I utilized my daily commute time in learning to play the Casio. I am at the beginner stage but feels like an achievement.
I practised yoga every morning. I invested a lot of time in maintaining a healthy diet. I am eagerly waiting for your lockdown stories. Do write to me soon.
Yours loving,
Anavi
---
I hope you find these examples interesting. Do let me know if you have any other topic ideas that you want me to cover by leaving a quick comment below.