In this lesson, dear students, you will learn to write a narrative essay on 'A House on Fire' in three different sets. It will help you prepare for your upcoming examinations.
Table of Contents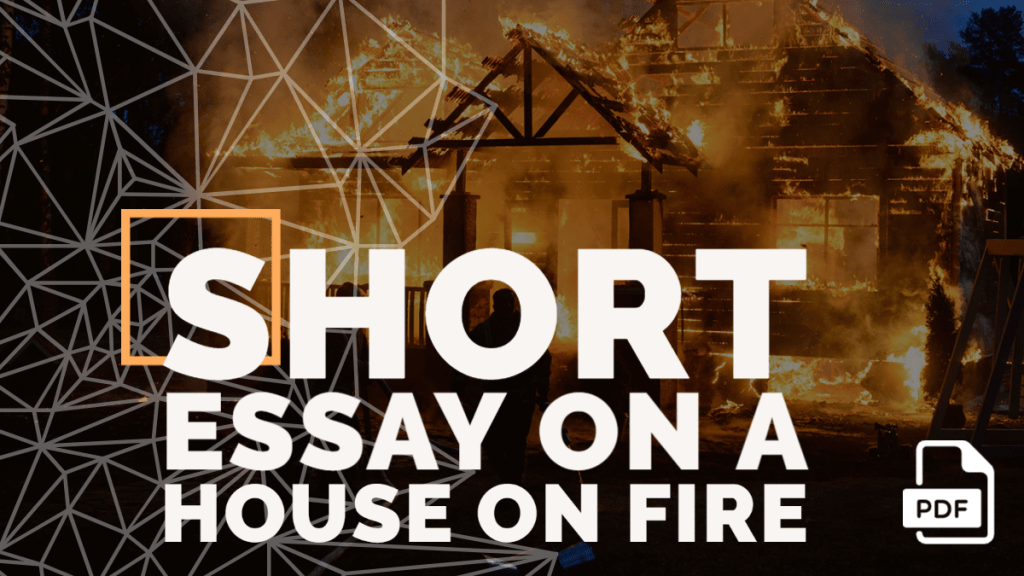 Short Essay on a House on Fire in 100 Words
It was late at night, and a loud noise awakened me. My mother arrived at that same moment to wake me up. Due to faulty wiring, the house just across the street from mine caught fire. It was the home of my friend Roshan. My mother and I rushed over to assist and calm them.
Black flames erupted from various locations across his home. Firefighters were doing everything they could to put out the blaze. My father was assisting Roshan's father in saving crucial documents. I learned that we must always keep an eye on our wiring and not be careless or postpone when it comes to critical tasks.
---
Short Essay on a House on Fire in 200 Words
It was late at night, and a racket broke my sleep. It was naturally dark, but when I uncurtained my windows, I saw glowing lights everywhere. At that very moment, my mother came to wake me up. I could spot my father outside the window along with other neighbours. The house opposite my house had caught fire due to bad wiring. It was my friend Roshan's house.
My mother and I immediately went to help and console them. Black flames that looked like smoky giants came out from different parts of his house. Firefighters were working their best to put off the fire. My father, along with other neighbours, was helping Roshan's father to save important documents, among other flammable objects.
The fire had broken into their kitchen, but the other part of the house that included Rohan room and his parents' room were not heavily destroyed. For one week, Rohan and his family stayed with us in our apartment while their house got repainted and refurbished. Their house was in dire need of renovation, and it looks like the newest house on the street. I learnt that we must always check our wiring and neither be negligent nor procrastinate on important activities.
---
Short Essay on a House on Fire in 400 Words
It began when I was softly treading in the fairyland. I say this because my sweet dream was suddenly broken, and I woke up to a haywire sight before me. I was in my father's arms. He was grabbing me tightly, and we were on the run. I was wondering if the wicked fairies were chasing us.
Everything felt so hot, and I could smell a mixture of strong body odour stinking from our bodies. I decided it was too much to bear and decided to sleep again. I was forced to reopen my eyes in a matter of two minutes. This time it was the sound of loud alarms that wouldn't allow my mind the peace it so deeply craved.
I decided to take a look around the vicinity. I didn't have to do a lot of neck work. We were not running anymore. We ran outside of our house and came on the road. It was at this moment that I spotted the red trucks. The source of the loud alarm was this truck. It was a fire engine. Our class teacher taught us the fireman lesson yesterday.
She told us that firefighters are brave people who have the lives of the burning people without caring about their life. At that moment, I heard the sobs of my mother. She stood next to us. She was crying. I looked at her and put my hands forward. She took me in her arms and wrapped me tightly. At first, I couldn't understand a word that she was saying. Eventually, it occurred to me that she was trying to say that our house was on fire and the firemen were trying to put it off. I was shocked! I looked forward to seeing my house burning.
Little by little, the fire was perishing and consuming the whole of it. There was only one fire engine. The neighbours were trying their best to help. My father, along with some of the neighbours, had rushed inside the house to save important documents among their precious things from getting destroyed. We were later told that the source of the fire was the poor wiring of the house.
We had been negligent on that account. Poor wiring is risky, and it somehow caused the fire. One thing leads to another. We are staying at my maternal grandparents' house for the time being. Our house is getting painted again. We have changed the wiring.
---
Dear students, hopefully, after this lesson, you have a holistic idea of writing a narrative essay on a house on fire. I have tried to be as descriptive as possible in the given word limit. If you still have any doubts regarding this session, kindly let me know through the comment section below. To read more such essays on many important topics, keep browsing our website. 
Join us on Telegram to get the latest updates on our upcoming sessions. Thank you, see you again soon.