In this lesson, you will learn how you can frame an anchoring script for the Children's Day celebrations.
Table of Contents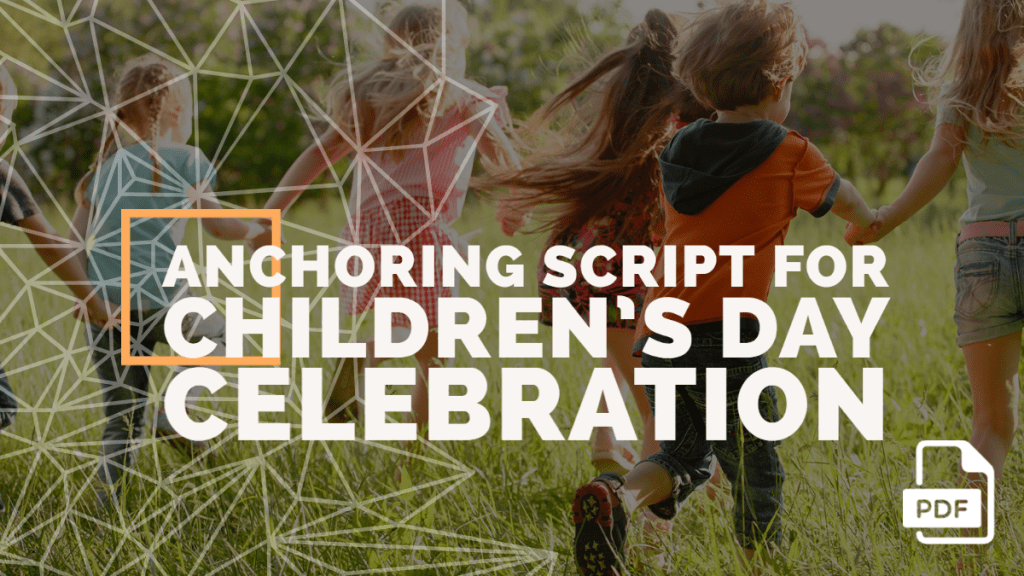 Welcome speech
Any event, occasion, or celebration needs a perfect welcome speech to settle the mood of the audience and set the tone for that day. A perfect welcome speech is not just a game starter, but a religious inclusion to mark the beginning of any ceremony. The audience gathers themselves mentally and connects better with a wonderful welcome note. For children's day, any welcome speech like this is undoubtedly an immediate attention capturer—
Demo Speech
"If anything on this earth is as pure as the heart of God, then a child is His incarnation.
Good morning/afternoon/ evening to our respected teachers, honourable guests, and all my dear students present here, whose presence is just another great inspiration for me to begin this program and continue with it in full delight. Children are perhaps the most innocent beings on earth, a direct figurine of god's grace, whose arrival on earth is a well-disposed plan of nature to preserve unblemished virtue unperturbed. Today, on the 14th of November, Chacha Nehru is not with us, but we, all through the country are following his legacy, his legacy of viewing children as the best creation on earth with unkempt care.
Today, children's day is a bit more special than usual years. Founded on one such brightest morning of 14th November, this year our institution has marked its golden jubilee and also the decade of our organization, the 'Lights' that has been constantly supporting underprivileged children, orphans, and roadside potentials.
It is not just some years passing by, but a history created with a daring effort to influence women's education and be the support system for the ignored and hated. Hence we will move on with this temper. To inaugurate our show today/tonight, I would like to welcome our respected principal sir, Mr. ( his name), Our honourable vice president, Mrs ( her name), our chairman, Mrs (her name), to light up this Diya and encourage everyone to vow their lives for serving little."
The Guests Inaugurate the Ceremony
Now, I will request our principal sir to share his memories that are so fundamental to the roots of this institution, his being one of the founding fathers of what our mission today is. Sir, the stage is all yours.
Principal's Speech
"First of all, it's a great joy to see a crowd full of faces, the faces of the future, who are tapping the real talents of our country. It is nostalgic to be transported to that evening when suddenly our committee decided to manifest their hopes for female education in the locality; my friend, lt. Mr. (his name) must have been very proud to see that now his locality girls are glowing futuristics and not premature child brides to middle-aged men.
I will not waste your enjoyment with age-old tales. But whatever the world is holding for you all, always remember you are the brainchild of a revolution of some determined people. Never stop yourself from taking up the hardest challenge. Go for it. The sun is there rising for you at the eastern horizon. God bless you all. Thank you."
Recitation Performance
Now we will move straight to our events today/tonight. Allen Ginsberg has right said once that poetry is the one place where people can speak their original human minds. It is the outlet for people to say in public what is known in private. At the very beginning thus, we have a little yet the cutest recital by one of our budding talents of Lights. Please welcome our very sweet and dear (student's name) with a big round of applause.
After Recitation Performance
I can hardly believe that this is our same shy ten years old (student's name). Such a beautiful performance and fluency of speech. Such a wonderful voice! Allen Ginsberg must have been thinking of a child like you when he remarked that poetry is an outlet for people in public. Thank you so much (student's name).
Dance Performance
And now join your hands for a gripping and wonderful dance performance by our senior students of higher secondary. They have been quite an inspiration for us since for the first time they have formed a cool musical band for themselves. Besides being efficient and award-wining dancers, they are prolific in singing and also several instruments. A big round of applause to welcome them!
After Dance Performance
That was lovely and so colourful. It is just like our dear students, vibrant, jubilant, and always in a rush of adrenaline. Thank you so much for managing your time and preparing this beautiful presentation even while topping your boards.
Music Performance
And now it's time for some songs. Jonathan Edwards once said that the expression of sweet concord of mind is done only through music. Undoubtedly it is so true. So our school has some uniquely talented music teachers whose lilt of music is no less than a hundred Kokilas. I will request our music teachers to share with our students a melodious foot-tapping note.
After The Performance
Thank you so much, ma'am. That was so beautiful and heart-touching. I am sure that like always our students have been overwhelmed by your musical gifts.
Choir Performance
And now for another talented exhibition from our Lights. A choir consisting of about twenty students has been constantly trained beyond their educational curriculum. We intend in making not just some bookworms but humans with several proficient skills to elevate their daily morale. This choir is as promising as ever. Not just in our school, but even on inter-school levels, they have been the recipients of several awards and recognitions. So it is foolish to deprive this afternoon/evening without their instrumental delicacy. A big round of applause for Polyphony.
After Choir Performance
Our founders have possibly received the greatest homage in the due course. Such wonderful lilt of music, the balance of flutes, drums, the orchestral rendition, and the young musical voices! A simple Bollywood song and yet so amazingly executed. Thank you so much Polyphony for this amazing gift.
Quiz
Well, well, well! Now, let's do something engaging and fun! What do you say, kids? Yes! We will now be doing a few rounds of quizzes. We had informed our students about this in advance and I have the list of names of the students who chose to participate in the quiz today. I will be calling out the names now. I request the participants to please come up on the stage and take their positions. Thank you.
[Reading out the names]
We have all the participants on the stage now. I will now request our Physics teacher, Mr/ Ms [name], to please come up on the stage and conduct the quiz. Thank you.
After the event
That was amazing! You all are very sharp and witty! Thank you. You may now take your seats with the audience. We will call you back for prize distribution later. Everyone, please give these amazing kids a huge round of applause!
Fancy Dress Competition
Now, this is the segment we all had been waiting for! The fancy dress competition! I am super excited to see how the kiddos have dressed up! I will be calling out the names of the participants and I ask their class teachers to please bring them on the stage. But first, I request our respected principal, Mr/ Ms [full name], to please come up on the stage. He/ she will be judging this event. Thank you.
Prize Distribution Ceremony
Now take a short break from the main course of the program and let us divert to something different. This year our students have made a wonderful exhibition of their merits in several examinations, like the annual examinations, the secondary and the higher secondary boards examination, NCERT, joint entrance, and also University examinations. The passing ranking for secondary boards is 85%, while in higher secondary our institution has secured a 100% passing ranking.
10 students from our institution have secured JEE MAINS and many are currently pursuing several promising careers in management studies, law, finance, banking, and the corporate sectors. We utilize this day hence for distributing prizes to all these worthy students who have been glorifying our standards everywhere. I will request our chief guest, Mrs.(her name) to honour our pupils with the prizes.
After Prize Distribution
I was wondering how gradually this school is developing. So many promising faces and their confidence is getting so well-reflected. I pray to God that you always break through any barrier in your life
Charity Donations
Now for our little hopes from Lights, we have organized a simple charity mission for them. They cannot be spared all banished from the main social flow. Our principal sir, Mr. (his name) will hand over to them, some tokens of blessings through some stationery materials, food packets, and clothes. Sir, the stage is all yours.
After Charity Donations
Thank you so much, sir, once again.
Dance Drama
And now our secondary students and students from Lights have collaborated to present a dance drama. They have selected Tasher Desh By Rabindranath Tagore, which is seminal and also many often children have preferred it for these amazing costumes and decorations, the voice of the artists like a Toyland story. I will announce the names of the participants one by one and in characters, they will be performing in. They are almost done preparing themselves. I will call them up on the stage and then vacate it for its necessary preparations.
After Dance Drama
I am just trembling, I do not know what to say. That was so pitch-perfect! We all are left speechless. I can assure you that we h. What is amazing is that I forgot they are some 16 years old students, but on stage, they are performing like professional theatricals. It cannot be explained how overwhelming every voice was. Thank you so much. I believe nothing could have made this afternoon/evening so much grand.
Ending Speech
From the smallest ant to the greatest creation, all have to end to welcome something more beautiful for tomorrow. Today we are time-bound. Yet the show must go on, the journey of our young talents as the future of this country. On this note, I bless them with a happy and successful career. Thank you, everyone. Goodnight/ Have a good day.
Note: This is a sample script meant to provide you with a basic idea of how to write an anchoring script for an event on the occasion of children's day. Feel free to use this script and edit it as per your needs.