Class teachers always stay at the centre of attention in every class. Students always keep talking about them. No matter if they are soft, hard, friendly, or whatever, they are the most important teachers of the classes. Keeping this real-time importance in mind, many institutes are nowadays focusing on the class teachers in their English comprehension tests.
So, in this session, I decided to come up with the topic of class teachers. Today, you will learn how to write letters to your friend about your class teachers. These types of personal letters often get relevant in exams. So, let's get started.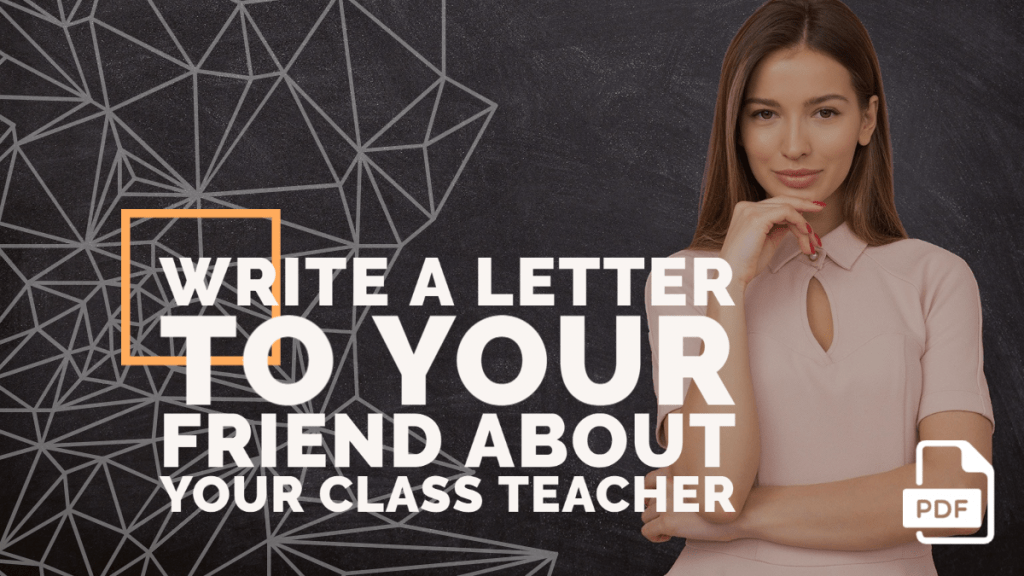 Example 1
Question: You recently had an experience with your class teacher in the school. Write a letter to your friend in this context describing the experience you had. 
Hints: Strict teacher- Rules and disciplines- Fell sick- Came to visit- Humble attitude- Assurance about school
Abin Mitra Street, Bishnupur
Kolkata: 700012
September 11, 2021
Dear Ranjan,
It's been months that I have not received any letter from you? Are you alright? How're you doing? You know, recently I had a unique experience with my class teacher in my school. 
Mr. Suresh Bhadra is our class teacher. To be honest, as an educator, we students don't like him that much. Sometimes, his teaching methods bore us a lot. Moreover, we came to know Mr. Bhadra, as a strict class teacher with rules and disciplines. Now recently, I fell sick with a fever. That's why I was unable to attend my classes for around 9 days. One evening, suddenly Mr. Bhadra came to our house to see me. Coming to our house, he told that he came to know about my sickness from one of my classmates. 
I was quite surprised to see him come to our house. A person, whom I used to not like and know as quite a strict teacher, he didn't only come to the house to see me but also assured me that there'll be no problem in school for this absence.
Your dear friend,
Animesh Baidya
---
Example 2
Question: Your class teacher has recently inspired you in your career. Write a letter to your friend in this context and express your feelings. 
Hints: Confused in career- Study affected- Class teacher called- Made feel comfortable and helped- Inspired lot- Conclusion
2/61 Santoshpur
South 24 Parganas, West Bengal
June 23, 2021
Dear Ruchira,
I have just received the last letter you wrote to me. We are doing well. How are you? In the letter, you asked me about my life in my school. In this letter, I am writing to tell you about a beautiful experience I had in my school last week.
As you already know, I always stay confused regarding my career after finishing school. Father took me to various career counsellors, motivators. But to be honest, nothing worked for me. As I was suffering from this dilemma, my study was getting affected as well. In such a situation, one day my class teacher asked me to come to his office. Naturally, I was quite afraid. After the tiffin period, when I reached his office, he asked me about my career plan. I was initially confused but eventually came to know that my father told him about it. Then, believe me, he made me so comfortable and helped me with various career options suitable for me. 
From that day, I am quite inspired by him and learned that a career must be chosen based on our passion. 
Your loving friend
Ashit Hore
---
Example 3
Question: One of your friends residing in a boarding school has wanted to know about your class teacher. Write a letter to your friend in this context.
Hints: Two teachers- One strict, one soft- Helps in studies- Helps to solve life problems- One very friendly- Other very professional- Conclusion
11 Binoy Kumar Sarani, Purbapally
Howrah
February 18, 2021
Dear Ratul,
In your last letter, you asked me about my class teacher in the school. In this letter, I am going to tell you about our school's class teacher.
We have two simultaneous class teachers in our school. One is Mr. Jayanta Mallik, and the other is Dr. Moumita Chaterjee. Mr. Mallick is our English literature teacher and Dr. Chaterjee teaches us Physical Science. Both of them are very helpful teachers. But I personally like Mr. Mallik. He is more friendly to all the students. Not only does he help us in our studies, but he often helps us in solving many of our life problems. We say that Mr. Mallik has a solution for any problems in the world. On the other hand, Dr. Chatterjee is also a good teacher but she's comparatively strict and a bit more professional.
That was all about my class teachers in the new class. What about your class teachers? How are they? I'll be waiting for your next letter.
Your best friend,
Sabina Khatun
---
Example 4
Question: Write a letter to your friend talking about your class teacher and explain why he's so special to be mentioned in a letter. 
Hints: Friendly teacher- Highly skilled in teaching- Takes part in sports with students- Plays after school- Favourite of other teachers- Conclusion
88/7, East Station Road,
Belgharia
Kolkata: 700110
December 11, 2020
Dear Supratim,
In the last letter you have written to me, you talked about the class teacher you have in your school. I also have a great class teacher in my school. 
He is Prasant Kumar Vardhan. He is a teacher of mathematics. But he is so friendly with the students, we hardly consider him as one of our teachers. Yet, we respect this person a lot. His teaching ability is so good that after he explains any problem, it seems like a child's play to us. Moreover, he also takes part in sports with the students. Every day, after school ends, we play Cricket and Badminton with him in our school playground. It's not only us who like him but he's also a favourite of the other teachers.
We are proud to have a class teacher with us. What do you think of him? Let me know in your next letter. 
Best wishes and regards,
Badal Kumar Ghosh
---
That was all about our presentation on writing personal letters to your friend about your class teachers. In this session above, I have tried to present the topic from four different aspects for a better understanding of the context.
Hopefully, after going through this session, all your doubts regarding the topic have been resolved and you will be able to write such letters yourself. Don't forget to push your own unique ideas into your letters. If you still have any doubts, post them in the comment section below.
I will try to attend to your query as soon as possible. For more such sessions, you can browse our website. Let us also know if you want me to cover any specific topic of English comprehension.
Thanks for being with us. See you again, soon.